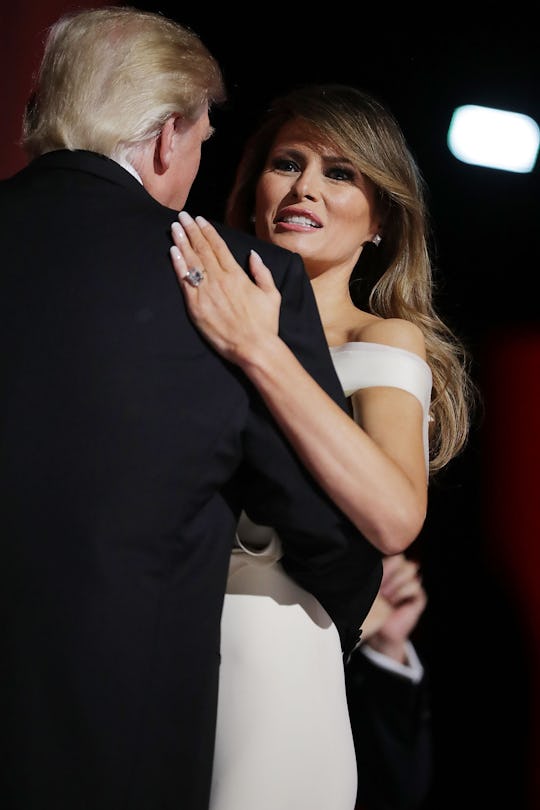 Chip Somodevilla/Getty Images News/Getty Images
What Does Melania Trump Think Of The Travel Ban?
It's already been a busy week for President Donald Trump, with executive order after executive order flying out of the White House. But what about for First Lady Melania Trump — how's her first week been since her husband has dominated the news cycle for the past seven days? One of her husband's most controversial executive orders included a temporary ban on refugees and citizens from seven predominantly Muslim nations — so what does Melania Trump think of the travel ban?
If Melania's first week as FLOTUS is any indication, the answer is a solid "America has no idea." It was back to New York City and Trump Tower in Manhattan for Melania and her 10-year-old son Barron after inauguration events last weekend: Barron will finish out the school year at Columbia Grammar and Preparatory School in New York. While the Trump family has been dogged by paparazzi in the past, circumstances have changed dramatically as the first family is now protected by the Secret Service — so no more casual comments to a throng of hungry celebrity news chasers.
Equally as quiet has been Melania's personal Twitter account — no tweets since an Election Day reminder to go vote — and only a single tweet from the official @FLOTUS Twitter account since her husband took office.
Since her husband was elected president, Melania has only appeared in a single interview, with 60 Minutes — and it was more of a cameo appearance than a feature as she appeared with her husband. Lesley Stahl asked Melania if she ever told her husband when he's crossed the line, to which she responded: "Yes, I tell him all the time." She continued:
I think he hears me, but he will do what he wants to do on the end. He's an adult. He knows the consequences. I give him my opinion and he could do whatever he likes with it.
This is probably the strongest commentary the public has heard so far from Melania on her husband's administration, and, if this last week is to become the new standard for FLOTUS communication, perhaps we won't hear much of her opinion. But then again, maybe it's all just a matter of finding the right team to help her communicate to the public: Melania is hiring core White House staff to assist her as first lady, most notably a press secretary of her own. So it's possible that she does have opinions on Trump's travel ban, but hasn't been able to officially communicate them.
Also, quick reminder: The whole "blink twice if you need help" Sad Melania meme is not real life and Americans have no idea what the inner workings of the Trump marriage are really like, so no jumping to conclusions that she's on some kind of unofficial gag order or anything.
I think it's actually a very safe bet to assume that Melania must have something to say about the ban, given that she herself was an immigrant from Slovenia when she first met Trump in 1998, marrying him in 2005. Melania became a U.S. citizen in 2006. During the election, the Associated Press found a number of gaps in Melania's immigration record, to which the Trump campaign promised to address in a press conference that never happened. White House representatives did not immediately respond to Romper's request for comment.
On Monday, following travel ban protests at airports around the country, a California state legislator has called on the White House to release Melania's immigration documents as a result.
Until the first lady decides to speak to the press, release an official statement, or tweet since again, we can't really know what she thinks about the travel ban — but, if her 60 Minutes interview is any indication, it might not matter to her husband what she thinks at all.