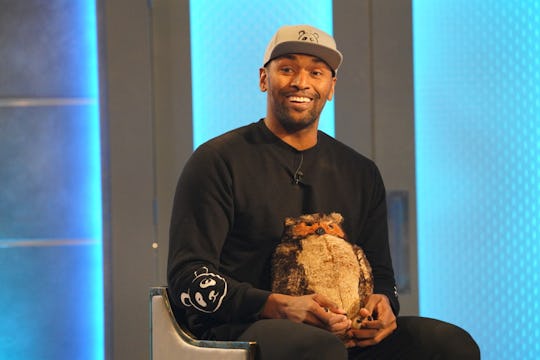 Bill Inoshita/CBS
Metta World Peace Has Opened Up About His Experience On 'Celebrity Big Brother'
From the very beginning, former NBA player Metta World Peace made it clear he didn't want to be in the Big Brother house. However, his wishes to leave were continuously ignored until Monday night when he was unanimously evicted and sent home. So now that he's back in the real world, many people are undoubtedly wondering: what does Metta think about Celebrity Big Brother?
After wanting to go home so badly, it's no surprise that Metta was happy to finally be back home with his kids and the love of his life, Maya Ford. During a recent appearance on The Talk this week, Metta revealed that it was totally worth it to "throw in the towel six days away from the finale." However, his kids weren't all that happy to see him.
"They was like, 'Dad we had six more days,'" he told the co-hosts. Still, Metta definitely seems much happier outside of the Big Brother house and he has no regrets about leaving the show so close to the end. He additionally told People that he's "feeling good" following his eviction. Metta also explained that having never watched the show before, he "wasn't prepared" for how much he would miss his family while inside the Big Brother house. That being said he did reveal that he'd be open to returning to the show for an "all-stars" season.
As for those rumors about Metta pressing an "emergency button" to leave the house early, Metta confirmed to People that was kind of true. "I panicked a little bit," he said, adding:
I had a panic attack because I was missing my family and I was claustrophobic. You know, you had no phone and you have your family and so I didn't think I could handle it. A couple of times throughout the show, I had to call the producers and just let them know I was struggling.
Metta credits his fellow houseguests, Marissa and Omarosa, for getting him through some tough times in the house. He also talked about his stuffed owl that he was always seen with and said that "the owl helped me a lot because seven days in I was struggling, and after I got past seven days I needed something to attach myself to." Metta ended up leaving with the owl and even brought it with him when he went on The Talk.
Despite all the tough times he had in the house, at least it looks like Metta made some new friends, and not just with the owl. He told People in the same interview that he wasn't really familiar with anyone going into the house, not even Omarosa, and he plans on checking out all of his houseguests' work now that he's out and has access to the internet. He also appears to be close with Shannon. Additionally, James has even tweeted from inside the house that he and Metta will be hanging out once he's out, which Metta retweeted.
So although Metta missed his family a lot while he was on the inside, it appears his overall experience in the Celebrity Big Brother house was a good one. However, he's definitely very happy to be done with the experience. It'll be interesting to see him back on finale night and find out who he votes to have win the competition. Since being on the outside, Metta has had nothing but nice to things about his Big Brother comrades, so voting for a winner will probably be a hard call for him.
You can see how Metta votes when the finale of Celebrity Big Brother airs on Sunday, Feb. 25 at 8 p.m. EST on CBS.
Check out Romper's new video series, Romper's Doula Diaries:
Watch full episodes of Romper's Doula Diaries on Facebook Watch.