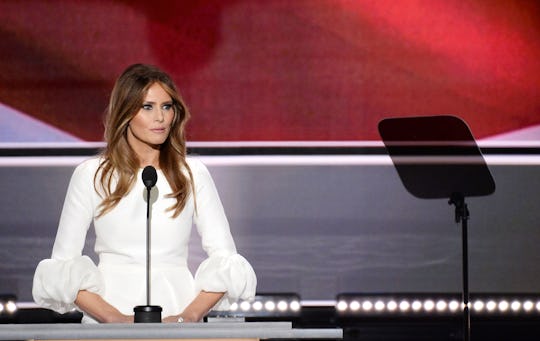 ROBYN BECK/AFP/Getty Images
What Does Michelle Obama Think Of Melania Trump's Speech? Trump Reportedly Plagiarized
Melania Trump was all smiles on stage Monday at the Republican National Convention in Cleveland, Ohio, as she gave a speech that was supposed to be her introduction to the nation. Instead, she gave a speech with several lines plagiarized directly from another aspiring First Lady, Michelle Obama from 2008. What does Michelle Obama think of Melania Trump's speech? She hasn't yet released a statement, but this likely won't help the previous bad blood between the Obamas and Trumps.
The speech lifted, verbatim in some sections, more than two paragraphs from Michelle Obama's 2008 speech to the Democratic National Convention.
Melania said in her speech on Monday night, according to NBC News, "My parents impressed on me the values that you work hard for what you want in life. That your work is your bond, and you do what you say and keep your promise. That you treat people with respect."
Compare that with this section of Obama's speech from the 2008 DNC: "Barack and I were raised with so many of the same values: that you work hard for what you want in life; that your word is your bond and you do what you say you're going to do; that you treat people with dignity and respect, even if you don't know them, and even if you don't agree with them."
But wait, there's more.
Melania added that we need to "pass those lessons on to the many generations to follow, because we want our children in this nation to know that the only limit to your achievements is the strength of your dreams and the willingness to work for them."
And here's the line from Michelle Obama's speech: "We want our children — and all children in this nation — to know that the only limit to the height of your achievements is the reach of your dreams and your willingness to work for them."
It's clearly more than just a coincidence, but the Trump campaign is denying that any sections of Melania's speech were lifted. NBC News reported that Paul Manefort, Trump's campaign manager, was on CNN Tuesday morning after the speech completely denying there was any plagiarism.
"...there is no cribbing of Michelle Obama's speech," Manefort said. "These were common words and values, and she cares about her family. To think that she would do something like that, knowing how scrutinized her speech was going to be last night, is just really absurd."
He added that there's "certainly no feeling on her part that she did it."
Melania told Today Show host Matt Lauer in an interview on the Trump plane before her speech that she didn't need to practice the speech very many times, "Because I wrote it," Melania Trump said. "With as little help as possible," according to NBC News.
Here's a side-by-side video of the two speeches. Take a look.
The Trump campaign released a statement Tuesday morning denying any kind of plagiarism took place.
"In writing her beautiful speech, Melania's team of writers took notes on her life's inspirations, and in some instances included fragments that reflected her own thinking," according to the statement from the Trump campaign senior communications advisor Jason Miller. "Melania's immigrant experience and love for America shone through in her speech, which made it such a success."
None of these explanations explain why her speech was so similar to Obama's, but the campaign is clearly hoping to put this episode behind them heading into day two of the convention. Obama is a reserved and cool lady, so it's unlikely she'll issue any direct statement any time soon.