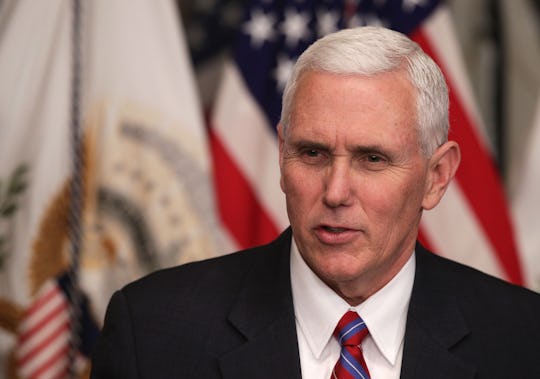 Alex Wong/Getty Images News/Getty Images
Here's What Mike Pence's Title X Vote Means
On Thursday Vice President Mike Pence cast the second tie-breaking vote in the Senate since taking office. The procedural vote was cast to move ahead with the GOP's plans to prohibit clinics that provide abortion services from receiving federal funding. The final vote on the issue could happen as soon as Thursday afternoon. What does Mike Pence's Title X vote mean? The funding would affect family planning services nationwide — not just Planned Parenthood.
Pence's vote on the Senate floor was the second such tie-breaking vote he's cast since he became vice president (the first was to cinch the confirmation of Betsy DeVos as Secretary of Education). Prior to his first tie-breaker, a vice president hadn't voted to break a tie in the Senate since 2008, according to the Senate's official website. The fact that Donald Trump hasn't even reached the 100-day mark in his presidency and Pence has already had to break two ties is certainly reflective of how partisan U.S. politics are at the moment.
One issue that's certainly been at the forefront of a lot of debate, and an increasing amount of legislation, is reproductive health. The tipping point for many conservative politicians has been abortion — whether it be advocating for the overturning of Roe v. Wade or, in the case of the current vote, making funding for clinics contingent upon whether or not they offer abortion services. As has been pointed out innumerable times, reproductive healthcare clinics like Planned Parenthood offer a wide range of services, a mere fraction of which have anything to do with abortion.
Denying funding to clinics on the ideological basis of being anti-choice is — aside from being a tenuous justification — incredibly shortsighted. Title X grants, through which these clinics are funded, are primarily used to help low-income persons access reproductive health services like annual cancer screenings and testing for sexually transmitted diseases, according to the data from the U.S. Department of Health and Human Services. In fact, per the guidelines, they cannot be used to fund abortion services, even in the cases of rape, incest, or if the life of the mother is threatened. Medicaid dollars also can't be used for abortions, but Medicaid does make exceptions for cases of rape, incest, or if the mother's life is threatened, as laid out in the Hyde Amendment.
That being said, depriving clinics of funding because they offer abortion-related services as part of comprehensive healthcare services is not about defunding (and therefore preventing) abortion-related activities — it's about punishing the clinics that provide them. The services that Title X funding is used for, like cancer screenings, contraception, and public health education programs, will suffer if the clinics that provide them lack the fiscal resources to service their communities.
HHS data from 2015 shows that more than 4 million people — and not all of them women — utilized family planning clinics for their healthcare. The majority of them young adults who had income levels that qualified them for no cost or reduced cost services.
Under the previous administration, President Obama attempted to protect Title X funding from being withheld from clinics for political reasons — which is precisely what the GOP is attempting to do. If the GOP succeeds in tandem with its goal of repealing Obamacare it will become even more difficult for people to pay for and access healthcare services. For women, this could have especially deleterious consequences: many reproductive cancers — such as ovarian or cervical cancer — can be detected early through screenings. For many women, these cancers may not make them feel sick until they are fairly advanced, according to the American Cancer Society — and by then, the cancer may be untreatable.