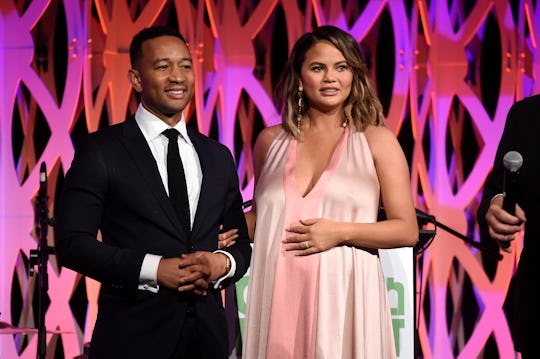 Jamie McCarthy/Getty Images Entertainment/Getty Images
Chrissy Teigen's Son's Name May Honor Another "Legend"
While, technically, the royal baby was born in April, another living legend was born just a few short days ago, thanks to Hollywood's ultimate couple. So, now that he's here, what does the name Miles mean for Chrissy Teigen and John Legend? Well, their new son is definitely cute, but his name could actually be pretty important, too.
Now, in case you missed it, Us Weekly reported that Teigen gave birth to her second child on May 16, 2018 when the model tweeted out an ominous, "Somebody's herrrrrrre!" followed by a series of adorable emojis. And since then, fans have been anxiously awaiting more details about the newborn. Well, the wait is over. Because on Sunday, Teigen changed the course of history (OK, maybe that's an overstatement but whatever), when she posted a perfect photo of her baby boy. "Hello, world! This is Miles Theodore Stephens," Teigen explained in her caption.
Of course, fans may have been initially confused when they read that the baby's last name wasn't Legend, but it's actually accurate. After all, Legend isn't the singer's given name. While John Legend is definitely catchy, John Roger Stephens is the 39-year-old's real name, and Stephens is also the couple's first child's last name.
So, now that the last name is all worked out, let's continue. Finishing her caption of her sweet photo, Teigen explained, "We are drowning in his little peeps and nuzzles. Our household feels overwhelmed with love. Thank you for all your well wishes!" Yeah, it's all ridiculously perfect. But what's even more perfect? The name.
Miles Theodore is seriously an incredible name, but after it was announced, fans couldn't help but wonder if the moniker meant something special to the happy parents. And it turns out, it just might. Now, neither Teigen nor Legend have actually confirmed that the name Miles Theodore is significant in some way or another, but looking back, it seems that it definitely is. In a 2005 interview with Fader, Legend spoke about how the late musician Miles Davis influenced him.
Yes, speaking to Fader, Legend explained that Davis was a clear inspiration for him and his own career:
To our generation, Miles just represents cool. You look at the pictures and all the photography made him look like an icon who had his own unique thing and was so cool and comfortable in that thing.
So really, it seems as though the couple might have chosen the name Miles as a way to pay homage to the late American jazz icon. Hopefully, Teigen and Legend will speak out about the reason behind their name choice, but until then, Miles Davis is actually a pretty safe bet for their source of inspiration. And based off of the story behind their daughter's name, it's clear that both Teigen and Legend like to have something meaningful behind the names of their children.
Yes, back in February, Teigen appeared on The Ellen DeGeneres Show to talk about her pregnancy, and revealed that, at the time, she and Legend couldn't think of a name for their son. But, Teigen also explained that her daughter, Luna's name, came to her at the spur of the moment. Per E! News, Teigen explained,
There was a blood moon happening. It was a very beautiful night, really big vivid red mood and just gorgeous. I have a love for space. I think about space camp all the time and my days at space camp as youngster. And so I thought Luna was just perfect.
So, maybe the couple was listening to some Miles Davis when Teigen went into labor, or perhaps they just thought their son resembled the jazz legend. Whatever case, little Miles is perfect, and the family of four seems as happy as can be.