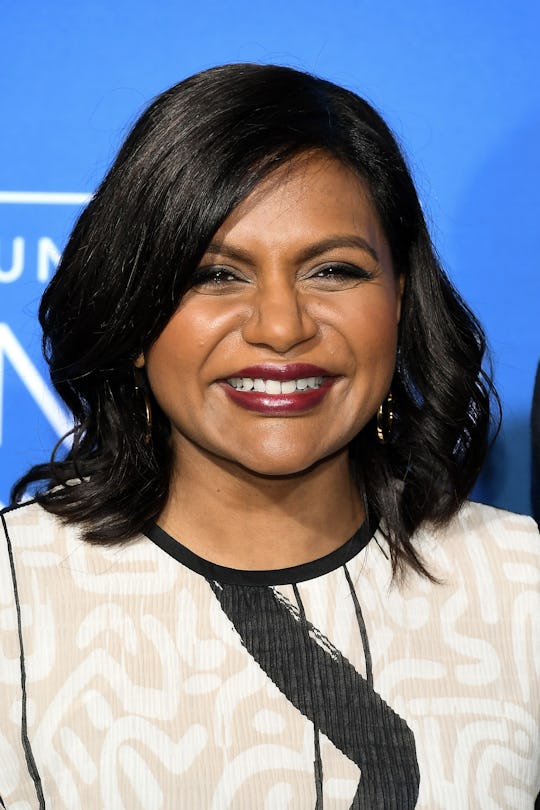 Dia Dipasupil/Getty Images Entertainment/Getty Images
The Meaning Behind Mindy Kaling's Baby's Name Is So Beautiful
Just days before the holidays, the world was given an incredible gift. According to E! News, Mindy Kaling has welcomed her first child, a baby girl, and her name is so, so beautiful. The Mindy Project star named her daughter Katherine and the meaning Mindy Kaling's baby's name is just as a sweet as the name itself.
Romper's request for comment from Kaling' reps was not immediately returned.
Kaling welcomed her baby girl this past Friday, Dec. 15, according to E! News. Although The Office star has yet to give any formal statement about the exciting news and why she chose the name "Katherine" for her first child, what we can gather about the meaning behind her daughter's name is that it's classic, gorgeous, and powerful — like Kaling.
Aside from choosing to give her daughter a name full of alliteration, she may have chose it because the name Katherine, according to SheKnows, means "pure" and "clear." But what's more probable, considering how unstoppable and empowering Kaling is, the name also is "powerful, feminine, royal, saintly, classic, popular, and adaptable," according to Nameberry. And as BabyCenter points out, Katherine is an "elegant" name linked to famous writers and great American women.
Kaling is an incredibly famous (and funny) writer behind some of the greatest comedies of our time, but what could the name Katherine mean to the new mom personally?
From what's available online, it's hard to say whether Katherine has any prior family significance to Kaling. Both of her parents are from India; her mother's name was Swati Roysircar, who unfortunately died of pancreatic cancer in 2012, and her father's name is Avu Chokalingam. Kaling has one brother named Vijay Chokalingam.
While Kaling's daughter's name doesn't appear to have any Indian roots — Kaling's full name is Vera Mindy Chokalingam — it's not surprising that she gave her little girl a popular American name. Kaling's parents, who were living in Nigeria when the actress was born, had her go by her middle name because they wanted Kaling to have "a cute American name" when they moved over to the United States, according to Live Journal.
And although this is an unlikely theory, Katherine Kaling could possibly be a shout out to her character on The Office, Kelly Kapoor, who shares the same initials. Her character on the hit sitcom to did jumpstart her career and every one of her fans has a soft spot for the former office chatterbox. Wishful thinking, if anything, but who knows, right?
Either way, fans are so excited for the arrival of baby Katherine.
People Are Really Freaking Out
Excitement really has been at an all-time high even before Kaling welcomed her baby girl. Her pregnancy was announced back in July by none other than Oprah Winfrey, and Kaling seemed completely content with the fact that she was the one to break the news to the world. "If anyone is going to announce big news about your private life, Oprah Winfrey is the person," Kaling previously said, according to People.
And Winfrey was just as excited as the rest of us when she found out. While in a press line over the summer, Kaling reportedly let Winfrey in on the news. "That's when she told me. My mouth dropped," Winfrey told People. "'What did you just say?" she said, 'Oh, Oprah, I don't think you know. I'm 5 months pregnant.' And I said, 'WHAAAAT?!'"
Kaling hasn't shared any details about her daughter just yet, but hopefully when she does, she can let fans know a bit more about her baby girl. And let's keep our fingers crossed that she'll provide a little insight into how she chose such a beautiful name for her first child.
Check out Romper's new video series, Romper's Doula Diaries:
Watch full episodes of Romper's Doula Diaries on Facebook Watch.