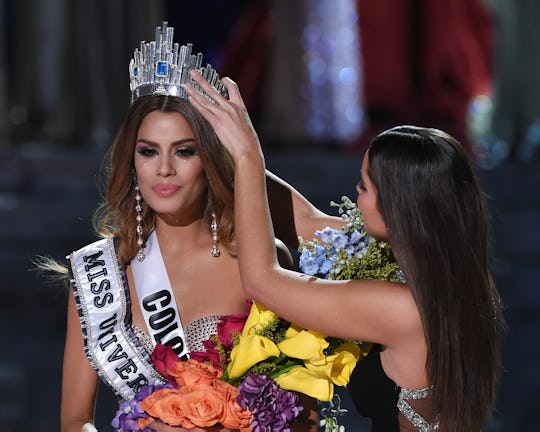 What Does Miss Colombia Think Of Steve Harvey's Super Awkward Mix-Up? She Responded & Was Impressively Gracious
It was almost painful to watch: while cameras rolled at the Miss Universe 2015 pageant in Las Vegas Sunday night, a shocked Miss Colombia Ariadna María Gutiérrez Arévalo tried to remain composed as she had the crown taken off of her head and placed on Miss Philippines Pia Alonzo Wurtzbach instead. In what has to be the biggest blunder possible in the pageant world, Miss Universe host Steve Harvey announced the wrong winner, naming Gutiérrez Arévalo as Miss Universe when she was actually first runner-up, according to ABC. Miss Colombia responded to Harvey's mix-up with impressive forgiveness and poise.
As Arévalo was taking her victory walk, Harvey had to awkwardly correct his mistake, saying he "had to apologize," and that Wurtzbach had actually won the crown. Naturally, social media promptly had a giant freak-out, and an onslaught of tweets slamming Harvey's mistake ensued. Although some wondered if his gaffe had been an intentional publicity stunt, Harvey insisted that it was "an honest mistake," sharing a photo of the card that he read incorrectly which had the accurate information listed, according to USA Today. (A later Snapchat seems to suggest that the teleprompter had listed the wrong information, leading to the mix-up). But then, Harvey only made things more uncomfortable after he misspelled both Colombia and Philippines in his apology tweet (the tweet was promptly deleted, but not before USA Today took a screenshot). Talk about a rough night.
Surely, the night was just as awful for poor Miss Colombia, Arévalo, who had to try and hold her head high during what has to be every pageant queen's worst nightmare (for what it's worth, I would have probably lost it completely, which is one of many reasons I'll never be Miss Universe).
After the show, Miss Colombia was asked for a comment in a video that was posted to the Miss Universe Facebook page and Twitter account. And given everything that had just gone down, I'm pretty sure this is the epitome of grace and composure. When asked whether she had anything to say to her fans, Arévalo said, "No, everything happens for a reason. I'm happy for all that I did."
Unsurprisingly, she's getting lots of love from the Twitterverse today, making her probably one of the most adored first runners-up in Miss Universe history:
I've got to admit, I feel pretty bad for Steve Harvey. It was a huge mistake, of course, and he most likely ruined the night for both Miss Colombia and Miss Philippines (surely that's not the way she wanted to win). But mistakes do happen, and he's got to feel pretty awful about this one. Chances are no one will be letting him live it down any time soon, either.
Image: Ethan Miller/Getty Images