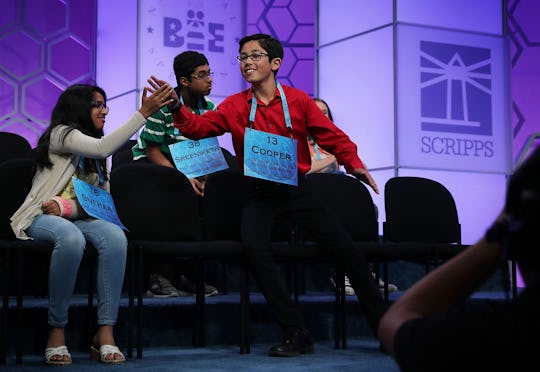 Alex Wong/Getty Images News/Getty Images
What Does Myoclonus Mean? Scripps Spelling Bee Viewers Are Hilariously Divided
On Thursday, 10 adorably brilliant, pint-sized finalists took the stage for the 89th Annual Scripps Spelling Bee. The first word of the night was "myoclonus." What does myoclonus mean? It's a noun that refers to a medical condition, specifically the involuntary contraction of muscles in a spasmodic manner. Medical words are a common staple of the Scripps Spelling Bee, accounting for 15 of the winning words since the first winning word in 1925.
And just who got to spell this intimidating mouthful of consonants and vowels? The first speller of the finals was Cooper Komatsu, a 13-year-old from Culver City Middle School in Los Angeles, California. For Komatsu, the Scripps Spelling Bee is in his blood: Cooper Komatsu's grandfather is a Scripps Spelling Bee alum. Komatsu appeared to initially look as though his spelling of the word was about to unravel; after briefly pausing, he rallied to correctly spell the world to go on to another round.
Part of the #SpellingBee fun is watching along at home and trying to either spell the word before they flash it on the screen, or guess the definition before the speller requests it. Not only did I totally butcher the spelling, I completely missed the mark on the definition. I thought "myoclonus" might refer to something in Greek mythology. Yeah... no. Turns out I was way off. These middle schoolers are running linguistic circles around me.
Unfortunately, Twitter has its own ideas of what the 25-cent word means.
Unfortunately for Komatsu, he would finish ninth out of the 10 finalists. The word that would do him in — the word he will probably never forget and haunt him until the next spelling bee? Illicium: The first spine of the dorsal fin.
The night continued with more drama, baffling vocabulary, and maybe for these nervous kiddos, a few bouts of myoclonus as the head up to the mic.