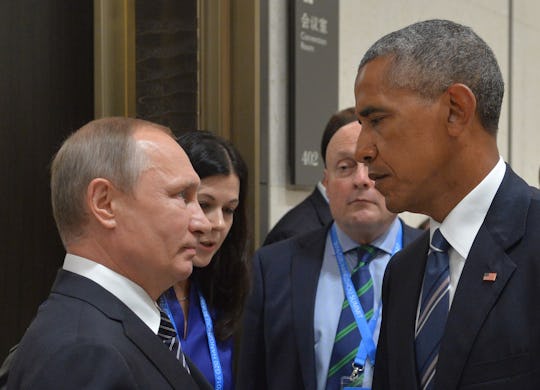 ALEXEI DRUZHININ/AFP/Getty Images
What Does Obama's Election Hacking Investigation Mean? It Won't Change The Outcome
In the lead-up to the presidential election in November, President-elect Donald Trump claimed that, if he were to lose, it would be because of voter fraud and election interference. Now that he's won, he doesn't seem to think taking a deeper look into claims of hacking during the election is a priority, but President Obama, for one, disagrees. According to Bloomberg, Obama has authorized an investigation by U.S. intelligence agencies regarding election-related hacking, and has requested a "full report," by the time he leaves office in January. What does Obama's election hacking investigation mean? The report will focus on the effect that hacking efforts thought to be led by Russia may have had on the presidential election, amid claims that the government was behind multiple attacks targeting the Democratic National Committee, the Democratic Congressional Campaign Committee, and other political organizations, according to The Independent.
One thing it likely won't do though, is have any effect on the outcome of the election itself. According to Politico, Obama counterterrorism and homeland security adviser Lisa Monaco told reporters Friday that the need to investigate the hacking claims is an important national security issue, and noted that Trump's administration is about to "inherit a rapidly growing threat in this space across all dimensions." In other words, the goal of the investigation seems to be ensuring that U.S. intelligence agencies can properly understand what kind of interference took place and how it could be avoided in the future. But even though Russian hacking seems like something a president-elect should be concerned about, Trump himself doesn't seem particularly worried.
In an interview with TIME for it's "Person Of The Year" issue, Trump denied any Russian involvement in the election, and told the magazine, "I don't believe it. I don't believe they interfered." In fact, he pretty much brushed off the idea all together, explaining that talk about Russia during the election "became a laughing point, not a talking point, a laughing point. Any time I do something, they say 'oh, Russia interfered.'"
According to TIME, aides have said that Trump "has chosen not to consistently make himself available for intelligence briefings," which might explain why his view on the hacking claims differs from that of intelligence agents. But the president-elect has also been open about his forgiving view of Russia in general, and during his "Person Of The Year" interview, was quoted saying, "why not get along with Russia? ... [They] can help us fight ISIS, which is both costly in lives and costly in money. And they're effective and smart." As for the hackers? Trump said he doesn't think we should be so quick to assume that they were acting on behalf of the Russian government:
It could be Russia. And it could be China. And it could be some guy in his home in New Jersey. ... I believe that it could have been Russia and it could have been any one of many other people. Sources or even individuals.
But according to The Independent, earlier this week, U.S. intelligence officials said in a statement to NBC News that they completely disagreed:
The US Intelligence Community is confident that the Russian Government directed the recent compromises of e-mails from US persons and institutions, including from U.S. political organizations. We believe, based on the scope and sensitivity of these efforts, that only Russia's senior-most officials could have authorized these activities.
And they aren't the only ones concerned. In November, members of the Senate Intelligence Committee wrote to Obama asking him to declassify more information about the hacking, arguing that they believe "there is additional information concerning the Russian Government and the US election that should be ... released to the public." On Wednesday, Democratic Maryland Rep. Elijah Cummings and California Rep. Eric Swalwell introduced a bill calling for an "independent commission to investigate Russian government involvement in the digital attacks" ahead of the election, according to Wired, with Cummings explaining to reporters that the 12-member, bipartisan commission would be responsible for an "independent, and robust review of Russia's efforts to influence our election and attack our nation's democracy, and it will make specific recommendations for the future."
Despite the fact that Trump would likely view the move as largely unnecessary, a number of Republicans — including South Carolina Sen. Lindsay Graham and Arizona Sen. John McCain — have also supported the investigation into the hacking claims, according to Wired. And that's a good thing, according to cybersecurity expert Thomas Rid, who is a War Studies professor at King's College London. He told Wired that Russia's hacking of the United States is "the most serious type of digital sabotage we've ever seen of a political system," and stressed that having a thorough and open review is necessary. After all, Rid said, "having a public conversation about this problem—staring the problem of electoral sabotage in the face—means it's harder to do it again."
Those expecting a full public reveal of the the Obama-commissioned report at the end of January might be disappointed, however. According to Politico, Monaco said that the findings would be shared with "a range of stakeholders," and that the decision to release the information beyond that would be "first and foremost a determination that's made by the intelligence community."
Given that the consensus among intelligence agents and those involved in national security appears to be that hacking is indeed a major threat and concern, it doesn't seem unreasonable to think that Trump would want to pay attention, particularly as his administration will soon be responsible for protecting the nation from these kinds of attacks. For now, at least, he's not exactly on board, but hopefully the report's findings might be able to sway his opinion. And if not, at least there are many members of Congress who aren't ready to see the issue dropped without further investigation.