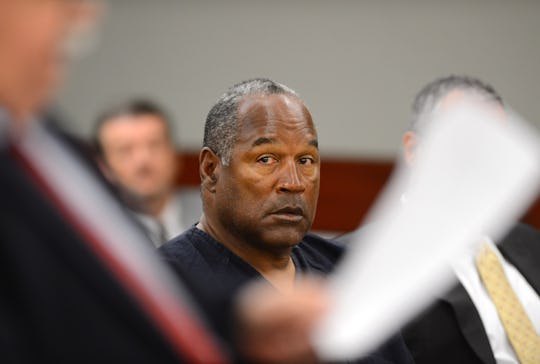 Ethan Miller/Getty Images
What Does O.J. Simpson Think Of 'American Crime Story'? He Hasn't Said Much So Far
The trial of the century is back as a TV series, but what does O.J. Simpson think of American Crime Story? So far, the former athlete and controversial figure seems to be keeping quiet about the project. Produced by Ryan Murphy, The People v. O.J. Simpson: American Crime Story promises to give an in-depth look at what actually went on behind-the-scenes during one of the United States' most-watched murder trials when it airs next month.
Though plenty of actors are known for meeting up with the inspiration for their characters, Cuba Gooding Jr. isn't one of them. In an interview with Entertainment Tonight, he revealed that he didn't have any contact with Simpson before portraying him in American Crime Story. "I'm playing him at his most flamboyant, charismatic self," Gooding told the outlet. "If I played him today, then I'd [have] probably visited fifty times but no, this was at a time in his career where he was in a different state of mind."
In 1994, Simpson was charged in the stabbing deaths of Nicole Brown Simpson (his ex-wife) and Ronald Goldman. When he was acquitted in 1995, 150 million people were watching. American Crime Story aims to reawaken the fervor surrounding the case.
Simpson himself, however, is leading a low-profile life these days. In 2007, Simpson was arrested and convicted for reportedly orchestrating an armed robbery of his sports memorabilia in Las Vegas. He's now serving 33 years at Nevada's Lovelock Correctional Facility.
Though American Crime Story brings up plenty of history that Simpson may hope to put behind him, members of the cast assure viewers that the source material is treated sensitively. David Schwimmer, who plays Robert Kardashian in the series, told Entertainment Weekly recently that he had spoken with Kardashian's ex-wife Kris Jenner for two hours by phone while preparing to play the storied defense lawyer. Schwimmer said that Kardashian's sense of moral obligation informed his work, requiring a careful portrayal in the series. He said,
No one really knows who he was and his legacy is very different. Obviously, the Kardashian name is very different from who he was. I do feel a responsibility to try and honor him and who he was and his spirit.
Gooding has also previously expressed a similar sense of duty to portray Simpson fairly. In his interview with ET, the actor said that he had tried to avoid judging the man he played.
I mean everybody has their opinion of course. I don't want to influence the character. I can't judge a character that I portray. I have to be very neutral with the emotional core of that character. The minute I judge him, I miss out on all these other wonderful colors of his personality.
Whether you watched the original legal proceedings or are tuning into the made-for-TV trial for the first time, The People v. O.J. Simpson: American Crime Story will hopefully provide little insight into race, celebrity status, and the law. Simpson may not be watching, but it seems as though the cast took their commitment to their characters seriously.
Images: Ethan Miller/Getty Images