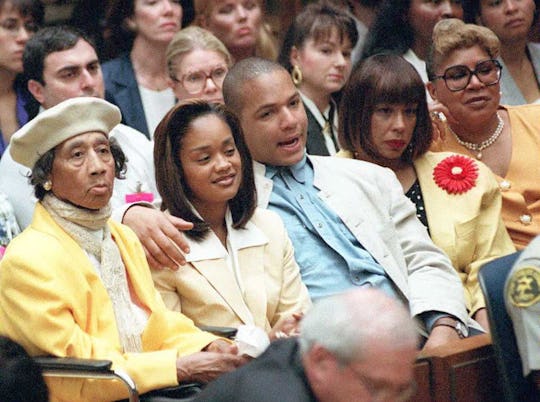 Pool/AFP/Getty Images
What Does O.J. Simpson's Son Jason Think Of 'The People v. O.J. Simpson: American Crime Story'? He's Not Saying Much
For anyone linked to O.J. Simpson's 1997 trial, this isn't an easy time to fly under the radar. Now that The People v. O.J. Simpson: American Crime Story airs Tuesdays at 10 p.m. on FX, thousands of Americans are entrenched again in the details of a nearly 20-year-old murder case. The Simpson family tends to keep their personal lives private, but all are affected by the reawakened interest in the killings of Nicole Brown Simpson and Ron Goldman. So what does O.J. Simpson's son Jason think of The People v. O.J. Simpson: American Crime Story? It appears as though he hasn't spoken about it, preferring to stay out of the spotlight.
Much more is known about Simpson's children with Nicole Brown Simpson. Sydney Simpson is a business owner in St. Petersburg, Fla., according to E!. A 2010 graduate of Boston University, Sydney followed up her studies by founding the company Simpsy LLC. Her brother, Justin, also works as a real estate agent in St. Petersburg and is a business owner himself. Jason, however, has proven more difficult to track down.
Given public perception, it's understandable that Jason would want to avoid scrutiny. William C. Dear's 2012 book, O.J. is Innocent and I Can Prove It, accused the then-24-year-old Jason of committing the two murders out of rage, a claim that was never substantiated in court proceedings. Dear claimed that Simpson's peculiar behavior following the crime — including the low-speed chase — had more to do with him wanting to protect his son than escape prosecution. Rumors of Jason's involvement in the killings are not supported by any formal charges.
Simpson is currently serving 33 years in a state prison after armed robbery and kidnapping convictions, according to TIME. He does not seem to have issued any public statement on The People v. O.J. Simpson, either. Cuba Gooding Jr. said he did not reach out to Simpson before playing him in the series, Yahoo! TV reported. Gooding Jr. did say that participating in the project illustrated how emotionally charged the subject matter actually is, for all involved:
It's hard, because as you walk through some of these scenes — like with the glove — I mean there's a lot of stuff that could be sensationalized just for entertainment's sake and this is still a crime. There are still families that are devastated by these deaths and I think if anything I took away from the six months of walking through this journey, it's that I felt grief for those families.
O.J. Simpson's trial drew worldwide attention, but Gooding Jr.'s words provide a good reminder that The People v. O.J. Simpson isn't just entertainment. Jason Simpson may be keeping out of view in order to protect his privacy. Given the publicity surrounding the Simpson family's personal tragedy, it makes sense that Jason would want to avoid attracting an audience.