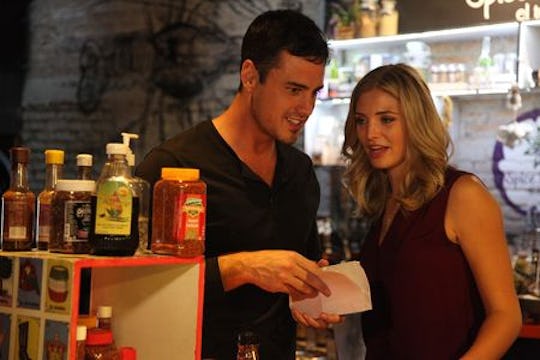 ABC/Eniac Martinez
What Does Olivia Think Of 'The Bachelor?' Her Intentions Might Not Be So Pure
With Ben Higgins doling out fewer and fewer roses each episode, the 20th season of The Bachelor is quickly reaching a turning point. And with the field of ladies dwindling, fans are hard at work speculating if Olivia Caridi will make her exit in an Monday's episode. Whether she does or not is surely up to fate, but now questions are looming about what Olivia really thinks of The Bachelor — more specifically, what she thinks of Higgins and the show.
"[Watching Olivia's confessionals], it makes more sense [as to] why some situations existed ... or why Olivia, for example, was more upset at times than I understood," Higgins told Ellen DeGeneres in an interview last week. Though Caridi's behavior is and was erratic to say the least (jumping out of a cake in Las Vegas is one incident that comes to mind), he said that watching The Bachelor in real-time is allowing him to be empathetic towards all of the Texas native's quirks and grasp her interactions with the housemates.
Despite receiving the first impression rose from Ben, the journalist has had quite a fall from grace. Though her big mouth and weird toes have caught social media's attention, some are skeptical about Caridi's sincerity — specifically what compelled her to sign onto a reality show. According to Life & Style, a source close to the 23-year-old not only claimed she never heard of The Bachelor prior to becoming a contestant but is on not to find love but to forward her career. "She used to complain so much about it and say it was so sexist and how terrible it is," an insider tells the magazine. "But now, she's going to take advantage of it and use it as a platform for her own fame."
The source didn't stop there, also claiming that Olivia would "pretend to be interested in someone only for as long as it takes to get what she need[ed] from them." Does that mean that she was never interested in Ben in the first place? Or that she looked at the The Bachelor solely as a strategic career move? It's unclear since Caridi has yet to acknowledge these allegations.
"Put your soul on display, people. Nobody else is you. Be proud of that," Caridi wrote in a Jan. 19 blog post. For the most part, she has been pretty mum about what she thinks of the show besides moments where she's featured. And she hasn't talked about her overall experience on The Bachelor, but seemed to acknowledge in that same post how she was dealing with being in the public spotlight, which is undoubtedly overwhelming. She said,
We are often swayed by opinions and desires. We often search for the approval of others to fit in. [...] Sometimes we change ourselves to impress others, or make ourselves how we should be according to societal standards. [...] Before you can be yourself, you have to know yourself. It's taken me a lot of time to figure that out, but after the realizations come to fruition, it's an awesome feeling.
Regardless of what the Twitter-sphere, the Internet, or even the other ladies think of Olivia, it's up to Ben to choose who will get the final rose. After all, she's still in the house, so she must be doing — and saying — something right.