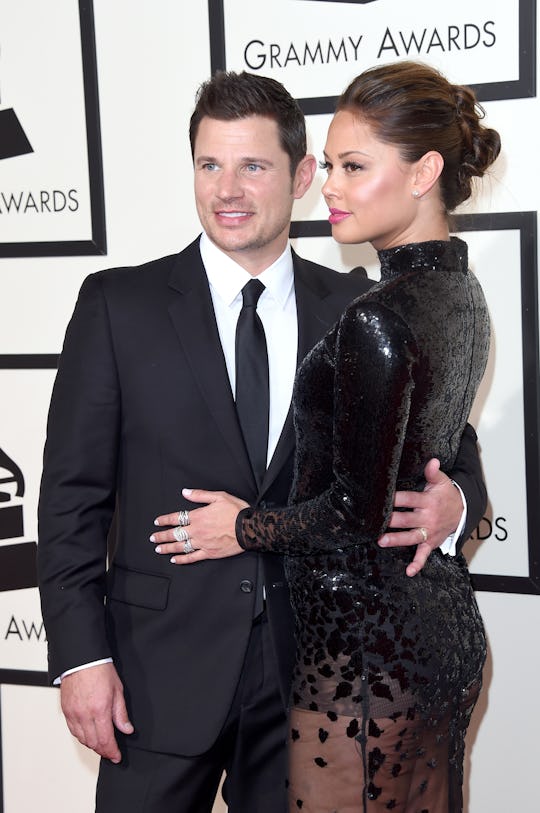 Jason Merritt/Getty Images Entertainment/Getty Images
Phoenix Lachey's Name Could Be Geographical
Now that the Lacheys are officially a party of five — Nick and Vanessa Lachey welcomed their third child (and second son) into the world on Christmas Eve — fans are wondering about the story behind the newborn's name. According to E! News, Nick and Vanessa named their little boy Phoenix Robert Lachey, but what does Phoenix mean? For now, the new parents have stayed mum on the inspiration behind his name, and have shared only one photo of the little boy, who arrived ahead of his due date, according to a post on both Vanessa and Nick's Instagram accounts. But Phoenix isn't the first Lachey child to share his name with a city, and that means his name could have a special significance.
After announcing her pregnancy on social media in September (and then revealing in a way-too-cute Instagram video in November that the couple was expecting a boy), Vanessa and Nick shared their son's birth announcement on social media Monday by uploading an adorable shot of little Phoenix's hand on top of his mom's. In the caption, the couple wrote,
It's a very Merry Christmas indeed! We had our Christmas Miracle. Phoenix Robert Lachey decided to show up early and was born on Christmas Eve. Mommy, Daddy, Camden & Brooklyn LOVE You very much! #LacheyPartyOf5
Phoenix joins his big brother Camden John, 4, and big sis Brooklyn Elisabeth, 2, in the Lachey clan, according to Entertainment Tonight — and like his siblings before him, Phoenix also has a name inspired by a geographic location. According to Mom365, both Camden (a city in New Jersey) and Brooklyn (a New York City borough) are some of the most popular "location" baby names, and while it could be a coincidence that both of names could be found on a map, the fact that their parents followed up by naming their newest arrival after a the capital of Arizona probably suggests it was intentional.
Nick's explanation behind his daughter's name could also mean that the couple's baby-naming trend might go beyond just liking the names or places themselves. A few months after her birth in Jan. 2015, Nick told People that he and his wife came up with the name Brooklyn as a tribute to where she was conceived. He told the magazine,
Well, if you must know, she was conceived in New York. Not in Brooklyn, per se, but we felt the Upper West Side didn't have a good ring to it and we wanted to pay an homage to New York.
As for Camden, Nick clarified that he wasn't conceived in New Jersey, but was actually named after Camden Drive, the street in Beverly Hills where Vanessa's OB-GYN's office was located. Nick explained:
It's kind of a funny story. I've always liked the name Colin. We thought that Colin would be the name. And John is my dad's name. But as we got further into it, I learned that Vanessa wasn't a big fan of the name Colin, so we started looking for another 'C' name ... We didn't really know anyone else named Camden. It was such a neat name.
The fact that the first two Lachey children have a quirky story behind their names hopefully means that Phoenix will as well — maybe it's the city where the couple learned they were expecting? Or maybe Vanessa was just craving chimichangas throughout her pregnancy? — but, of course, it could also just mean that they liked the name. Since proud papa Nick seems to be more than pleased to share the meanings of his kids' names though, chances are good he'll offer up the real story soon enough.