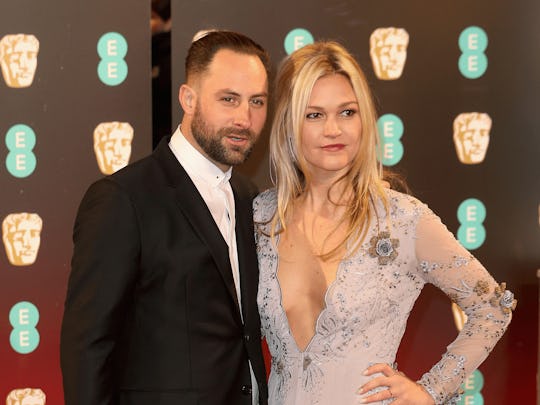 Chris Jackson/Getty Images Entertainment/Getty Images
What Does Preston J. Cook Do?
While actress Julia Stiles might be taking her time planning her wedding, she'll need to start planning for a nursery with her first child on the way sometime later this year. The 36-year-old Jason Bourne star is expecting her first child with fiancé Preston J. Cook. The relatively private couple has been engaged since Christmas 2015, with no official wedding date yet on the books. Their discreetness has left plenty of fans wondering — just what does Preston J. Cook do? As it turns out, he and fiancée Stiles have one very big thing in common: Hollywood.
According to Stiles, she and Cook first met on the set of the 2015 film Blackway, in which Stiles starred and Cook worked as second assistant camera. In his IMDb profile, Cook has an an impressive resume of film and television camera work, with behind-the-camera credits including The Revenant, Deadpool, and the forthcoming War for the Planet of the Apes from 20th Century Fox. In addition to Blackway, Cook and Stiles shared the set for Jason Bourne and Stiles' forthcoming U.K. television mini-series, Riviera — again with Stiles in front of the camera while Cook worked behind it. But Cook hasn't always worked behind the camera in Hollywood, as his IMDb profile also reveals.
Eagle-eyed fans of Showtime's LGBTQ drama series The L Word may recognize Preston Cook as Bette Porter's devoted assistant, James. Cook starred in 26 episodes over the course of the series' six seasons as James. A 2006 companion book to the show, The L Word: Welcome to Our Planet describes James' character as a "loyal, if put-upon assistant" to the firebrand director of the California Arts Center played by the amazing actress Jennifer Beals. Cook also has other acting credits as well, with singular appearances in Stargate SG-1 and the 2003 reboot of The Twilight Zone. Sadly, Cook's acting hasn't won him any MTV Movie Awards, unlike his bride-to-be and if anything, his Hollywood resume reveals that he's more comfortable and adept behind the camera than in front of it.
In an interview with the U.K. edition of Marie Clare, Stiles revealed she was thrilled to be able to work with her fiancé on the set of Riviera, saying, "It turned into the most romantic experience ever." The U.K. thriller starring Stiles and Game of Thrones bad boy Iwan Rheon was shot in the gorgeous Nice, France; it was apparently such a romantic experience that Stiles and Cook very nearly eloped in Nice once filming wrapped. Stiles said:
I did have a discussion with [Preston] where I said, "Oh, I don't want to spend a year planning a wedding. This is so romantic, let's just do something impromptu here in the south of France!" But it was unrealistic, because it would have been shoehorned in right after we finished shooting. And I really like fantasizing about what the wedding could be, and having those discussions with him. Eventually, though, you do just have to pick a date!
Riviera premieres Thursday on U.K. channels Sky Atlantic and Now TV. No specific word yet on Stiles' due date, or her and Cook's wedding date either.