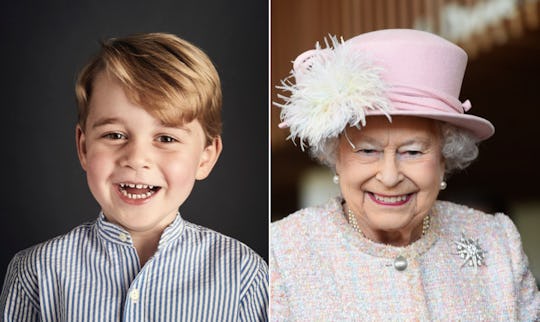 Handout/Getty Images Entertainment/Getty Images/ Stuart C. Wilson/Getty Images Entertainment/Getty Images
Prince George Has An *Adorable* Nickname For The Queen
Sometimes it's hard to believe that the royal family can be like your average family. Sure, they might pass down noble titles and an actual throne, but at the end of the day, Kate Middleton is a busy mom of three, Prince William is a tired dad dozing off at events, and Queen Elizabeth II is the matriarch of their entire family. She's a mother to four children and the grandmother (and great grandmother) to more. She might be the queen, but that doesn't mean she's exempt from some cute, less-than-formal nicknames from the youngest in the royal family. In fact, what Prince George calls the queen, his great grandma, is beyond adorable.
Most people might refer to their grandmothers with a nickname, mainly because "grandmother" sounds a bit longwinded, old fashioned, and well... a little uninspired, right? And there are plenty of alternative names to just "grandma" and "grandpa." But when your grandmother or great grandmother is the queen, it might seem like things need a little more oomph.
But, as it turns out, Queen Elizabeth is just like your average grandma — her grandchildren and great grandchildren, including 4-year-old Prince George, have their own nickname for her: Gan Gan. In an 2016 interview, according to Hello! Magazine, Middleton, revealed that Prince George has a special bond with his great grandmother. "George is only two-and-a-half and he calls her 'Gan Gan,'" Middleton said at the time, according to Hello! Magazine. "She always leaves a little gift or something in their room when we go and stay and that just shows her love for her family."
But Prince George's nickname is unique to the queen just for him and his younger generation. His dad and cousins reportedly refer to to their grandmother (the queen) a little bit differently, according to Marie Claire. Prince Harry and his cousins, like Princess Eugenie, reportedly call the queen "granny," according to Marie Claire, which is simple, effective, and to the point. Meanwhile, Prince William, reportedly used to refer to the queen as "Gary" when he was younger because he couldn't quite say "granny," according to Elle.
Although the queen's grandchildren and great grandchildren have some informal nicknames for her, her relationship with her grandchildren tends to be a little formal. During the documentary, Elizabeth at 90, Prince Harry revealed that he views the queen differently for her dynamic roles, according to HuffPost. "I still view her more as the queen than my grandmother," Prince Harry said, according to HuffPost. "You have this huge amount of respect for your boss and I always view her as my boss, but occasionally as a grandmother."
Meanwhile, Prince William and the queen reportedly have a great relationship and she has served as a mentor to him his whole life, according to People. Prince William has called the queen an influencing power in his life, according to the Daily Mail. "She's a huge role model for me — she's incredible — and in the family she's one of the biggest role models I have, along with my father," Prince William said during an interview when he turned 21, according to the Daily Mail.
While it is unclear how the queen's great grandchildren view their relationship with her, it is clear that the queen is very observant of Prince George's relationship with his younger sister, Princess Charlotte. During a public appearance in January, the queen insinuated to one mom that Princess Charlotte "looks after" Prince George, according to ABC News. How cute!
While people would love to know more about Prince George's relationship with his great grandmother, they'll have to take Middleton's word for it. From the sound of it, she is one terrific Gan Gan.