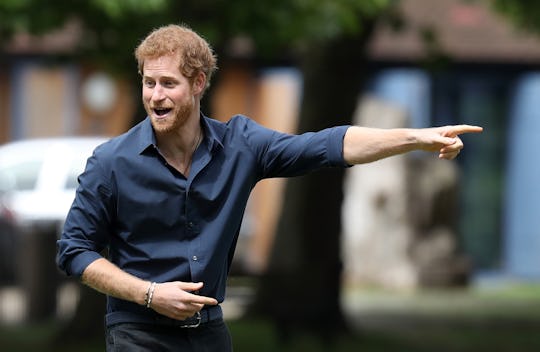 Chris Jackson/Getty Images Entertainment/Getty Images
Prince Harry May Have Some Thoughts About ABC's Princess Diana Special
As the 20th anniversary of Princess Diana's death approaches, more and more documentaries are coming out about her life and legacy. ABC, along with People magazine, will air their own documentary, The Story of Diana, beginning on Wednesday, August 9. But what does Prince Harry think about The Story of Diana? This is such a sensitive topic for all of the Royal Family and he surely has some thoughts on the upcoming special. Upon reaching out, the Royal Family declined to comment on the ABC special to Romper.
Thus far, neither Prince Harry or his elder brother, Prince William, have discussed the two-night event. However, earlier this summer they participated in a different documentary about their mom titled Diana, Our Mother: Her Life and Legacy. In that documentary, the pair opened up about growing up with the Princess of Wales and how her passing impacted them.
Though the loss was devastating for both brothers, it deeply affected Harry. Back in April, Harry opened up about how he struggled to come to terms with his mother's death on a podcast focused around mental health. It wasn't until about three years ago, when Prince William urged Harry to get help after "shutting down all his emotions," that Harry began to deal with that grief.
Princess Diana died on August 31, 1997 in a tragic car accident in Paris, France. Prince Harry was only 12 at the time; Prince William was 15. Along with Dianna, was her friend, Dodi al-Fayed and chauffeur, Henri Paul, who the courts later found to be negligent in Princess Diana's death. However, more than 10 years later, another court ruled the accident was caused by Paul's drinking as well as the paparazzi who allegedly chased the car through the Pont de l'Alma tunnel, where the car crash occurred.
Despite the multiple court cases surrounding the crash, many people still believe there's more to Diana's death. Conspiracy theories continue to surround her memory, but, thankfully, she is still most remembered as being the "People's Princess," and her contributions to various charities.
Her sons, along with Prince William's wife, Kate Middleton, continue her charitable legacy with The Royal Foundation. Through the organization they contribute to various causes, and have most recently taken up a mental health initiative.
Though neither of Diana's son will be in The Story of Diana, her younger brother, Charles Spencer, along with others who knew her well, will be part of the two-night event. Make sure to check it out when it premieres.