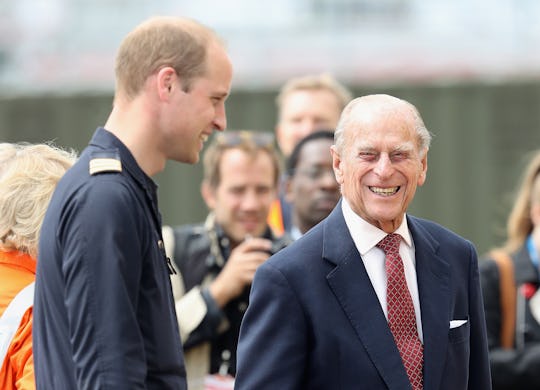 Chris Jackson/Getty Images Entertainment/Getty Images
Prince Philip Is Stepping Down, But What Does Prince William Think?
After being by Queen Elizabeth II's side for her entire 65-year reign, Prince Philip is stepping down from public life, according to an announcement from Buckingham Palace on Wednesday morning. While Prince Philip has scaled back his public appearances in recent years, this change does represent a significant shift within the Royal Family. So, what does Prince William think of Prince Philip stepping down? Prince William has yet to release a formal statement, but since Prince Philip has the full backing of the Queen, one can only assume he is as supportive as his mother.
Prince Philip's retirement will not go into effect immediately, according to the BBC. The 95-year-old prince will fulfill his social obligations until the beginning of August, at which time he will no longer accept invitations. The decision to step down, according to a Buckingham Palace spokesperson, was made by Prince Philip himself, although (as previously mentioned) he does have the full support and backing of Queen Elizabeth II.
An official statement was released by Buckingham Palace after the decision was made, reading:
"His Royal Highness The Duke of Edinburgh has decided that he will no longer carry out public engagements from the autumn of this year. In taking this decision, The Duke has the full support of The Queen. Prince Philip will attend previously scheduled engagements between now and August, both individually and accompanying The Queen. Thereafter, The Duke will not be accepting new invitations for visits and engagements, although he may still choose to attend certain public events from time to time."
So, what does this mean for Prince William? While the public has yet to hear from the Prince himself, a look into his 2017 public engagements thus far may give some insight into what the he thinks about this Royal Family change, and what it might mean for his future.
According to the BBC, the 34-year-old Prince has attended royal engagements on 12 days in 2017, including "a trip to south Wales, a gala dinner, and an investiture at Buckingham Palace." The Duke of Cambridge splits his time between royal duties, a part-time job as a pilot, and his charitable work, so while that number might seem low, he has multiple responsibilities he juggles simultaneously (including being a father to 4-year-old Prince William and 2-year-old Princess Charlotte).
In January of this year, however, Prince William announced that he was leaving his air ambulance job in the summer to "increasingly base" his family in London and take on more Royal responsibilities, according to the BBC. The decision came after Queen Elizabeth stepped down as patron of 25 charitable organizations, passing many of them down to Prince William.
How Prince Philip's decision will ultimately impact the Royal Family going forward, of course, remains to be seen. However, given the small shift in power seen over the last year, it is easy to assume that Prince William will continue to handle more Royal Family responsibilities.