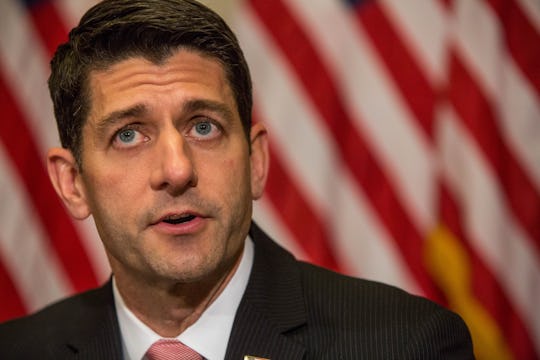 Zach Gibson/Getty Images News/Getty Images
What Does Privatizing Medicare Mean? It Could Have A Significant Impact On Coverage
Throughout his campaign for the presidency, President-elect Donald Trump spoke several times of his desire to repeal the Affordable Care Act. Now, House Speaker Paul Ryan has taken aim at Medicare, as well, telling Fox News this week that he wants to pursue "entitlement reform," or the privatization of Medicare. But what does privatizing Medicare mean, exactly, and how would it affect Americans?
According to Salon, when Fox's Bret Baier asked Ryan about entitlement reform on Thursday, Ryan responded, "What people don't realize is that Medicare is going broke, that Medicare is going to have price controls. Because of Obamacare, Medicaid is in fiscal straits. ... You have to deal with those issues if you're going to repeal and replace Obamacare. Medicare has got some serious problems because of Obamacare. Those things are part of our plan to replace Obamacare."
So what would happen if Ryan got his wish and Medicare became privatized? Rather than having the federal government cover seniors' medical costs, as Medicare currently works, the federal government would supply seniors with federal subsidies that would help them purchase private insurance.
It's a system that Ryan says would fix the "serious problems" introduced by the Affordable Care Act — but according to the Center on Budget and Policy Priorities, Obama's healthcare reform actually improved Medicare's finances, and the program is further from bankruptcy than its ever been.
Not only that, but a 2012 study carried out by the Kaiser Family Foundation found that privatizing Medicare would make 59 percent of its recipients pay increased premiums. The Kaiser study was modeled on the healthcare plan of 2012's Republican candidate, Mitt Romney, and his running mate, Ryan — although it wasn't considered an analysis of it, since Romney and Ryan's plan lacked specific details.
"If coupled with caps on the growth in Medicare spending, a premium support approach could make federal (spending) for the Medicare program more predictable but also increase costs and financial risks for beneficiaries over time," the report said, according to CBS.
Another study — this one carried out by the Commonwealth Fund — found that the Romney-Ryan healthcare plan would leave 72 million Americans uninsured (compared to the Affordable Care Act's 27 million). At the time, Romney campaign spokeswoman Andrea Saul shot down the results of both the Commonwealth Fund study and the Kaiser study, saying, "Our plan would always provide future beneficiaries guaranteed coverage options with no increase in out-of-pocket costs from today's Medicare."
Of course, it's also important to note that a Trump healthcare plan probalby wouldn't follow the Romney-Ryan plan from 2012. During his campaign, Trump even said, "Abolishing Medicare, I don't think you'll get away with that one."
On his new transition website, however, Trump's healthcare plan leaves things open for debate. "Modernize Medicare," he proposes, "so that it will be ready for the challenges with the coming retirement of the Baby Boom generation — and beyond. Maximize flexibility for States in administering Medicaid, to enable States to experiment with innovative methods to deliver healthcare to our low-income citizens."
Regardless of whether Trump will ultimately privatize Medicare, repealing the Affordable Care Act will definitely affect Medicare's future financial health, considering that Obama's reform added years to Medicare's funding. Whether Trump and Ryan actually privatize Medicare remains to be seen, but Ryan's comments on Thursday don't bode well for the current plan's future.