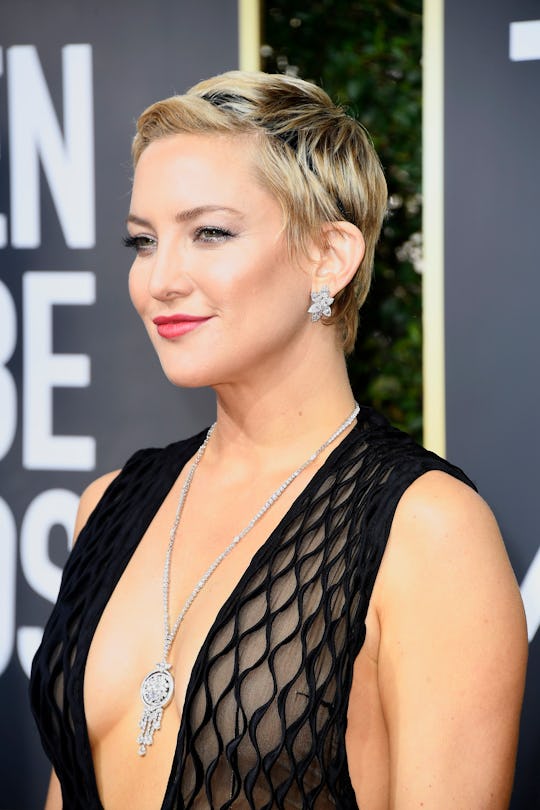 Frazer Harrison/Getty Images Entertainment/Getty Images
Kate Hudson Named Her Baby Girl Rani & Here's Why It's Such A Touching Name
Kate Hudson's baby girl is finally here! On Wednesday, the actress took to Instagram where she revealed, in a text post, that her daughter, Rani Rose Hudson Fujikawa, was born on Tuesday, Oct. 2. After sharing this very exciting news, people might have one question on their minds: What does Rani mean exactly and why did the actress choose this sweet moniker?
Luckily, Hudson has already answered that question in the same Instagram post. As she shared, Rani (pronounced like the name, Ronnie) is actually named after someone dear to both Hudson and her boyfriend, Danny Fujikawa — Fujikawa's dad, Ron.
"We have decided to name our daughter Rani Fujikawa, after her grandfather, Ron Fujikawa," Hudson and Fujikawa wrote in the post. "Ron was the most special man who we all miss dearly. To name her after him is an honor."
Ron Fujikawa was a lawyer and community leader before his death in 2012, according to the Los Angeles Times. He's survived by his three sons — Michael, Brady, and Danny, according to Harper's Bazaar, and longtime companion, Rebecca Foster. It's easy to tell how much Ron meant to Danny; last year, he posted the most touching tribute to his father on Instagram, writing how he had a dream in which his dad was "happy and healthy" and "all was OK."
The fact that Hudson and Fujikawa named their daughter after his dad is beautiful.
Although the name Rani is a super sweet tribute to Fujikawa's dad, it also has its own individual meaning. Rani is Hindi for "a queen," according to BabyCenter, and Hindi for "she is singing," according to NameBerry — talk about beautiful meanings. Although the name isn't too popular or common, it's guaranteed that Hudson's decision will push this name into the spotlight. And that's a good thing, because this name is really special and so pretty.
Naming her daughter after Fujikawa's dad is just a testament to their relationship. Fujikawa is a musician with his own record label, who tends to keep a low profile. And even though the couple started dating in 2016, according to Us Weekly, they knew each other for 15 years before they started a romantic relationship. According to Harper's Bazaar, Hudson is best friends with Fujikawa's stepsisters, Erin and Sara Foster. Hudson said during an appearance on The Talk that Fujikawa practically felt like family to her, according to Harper's Bazaar:
In terms of family, I've known his family forever. To have that connection is really powerful.
This quote makes the couple's decision to name their daughter after Fujikawa's dad even more powerful and special.
Hudson's friends (and fans) were absolutely in love with her name choice, leaving their thoughts on it in the comments of the announcement post.
"So happy for you all!" actress Reese Witherspoon commented. "What a beautiful announcement!"
"Mascara everywhere," Fujikawa's stepsister and Hudson's best friend, Sara Foster, commented. "Pulling over because I'm now blind. Ronnie would be so proud. I love my niece."
"In tears!" Hudson's close friend, Jen Meyer, commented. "Love you guys and that beautiful baby girl so much! She's perfect and stunning just like her mama! We love and miss you Ron."
By reading these comments from people close to the couple, you can tell how much Fujikawa's father meant to everyone he knew. Although her fans might never have had the opportunity to meet him, you can tell that he was one special person. I'm not crying, you are.
Even though Hudson did not release a photo of her daughter with this announcement, it isn't necessary. This beautiful announcement is a perfect way to celebrate her baby girl's arrival.