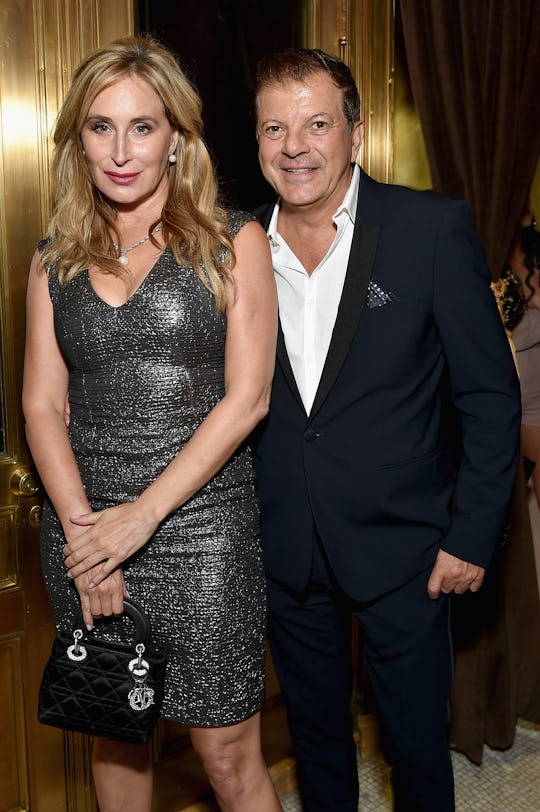 Mike Coppola/Getty Images Entertainment/Getty Images
Everything 'RHONY' Fans Need To Know About Rocco Ancarola
Arguably one of the most entertaining parts of any season of Real Housewives of New York City is catching up on the bonkers love life of one Sonja "Lady" Morgan, which frequently includes 23-year-olds, the would-be husbands of her roommates, and several international men of mystery. The latest entry on her dance card is an old friend playing what she calls "the long game" in wining her affections. So fans may be wondering: what does Rocco Ancarola from RHONY do? He's been called one of the nightlife industry's "biggest luminaries." Which seems rather fitting.
Rocco spent the '80s and '90s landing bit parts in a few different movies, usually playing service industry folks, according to Eater, which makes sense given that he makes moves in the restaurant/club space. In the 1980s, he had a hand in swanky Upper East Side Italian spot CiaoBella, and he went on to open Boom in Soho, another hip downtown restaurant which eventually opened an outpost in South Beach. He's known for taking over New York's roving Euro club Pink Elephant in 2009, which later fell apart due to venue-finding issues. Then he partnered with the Greenwich Village gastropub Rabbit in the Moon, but, according to Page Six, later resigned due to "partnership issues." Since then, he's been the mastermind behind "Riviera Sundays" at LAVO, which includes a night of fine dining in homage to the restaurants of the Italian Riviera in the 1960s followed by a clubby late-night transformation.
Needless to say, Rocco has had plenty of opportunities to woo Sonja Morgan. The pair have been friends for years, according to Sonja, and it seems like Rocco has managed to keep their spark alive, even as they both date other people. Sonja seems more interested in Rocco as a longterm companion than anything else, but it seems like their dates are sweet and affectionate, if not overtly romantic or sizzling with sexual chemistry. They appeared together at Dorinda's Halloween party in the Season 10 premiere, dressed as Lucy and Ricky Ricardo, and even though Rocco had to leave early to go to work, Sonja doted on him pretty attentively for the time he was there. (In fact, her failure to greet the hostess right away resulted in a mini-spat with Dorinda, and those tensions only seem to be rising as the season goes on.)
Fans first met Rocco during Season 9, when Sonja seemed to be in something of a love triangle with him and a much younger (and hunkier) French hotelier named Edgar AKA "Frenchie." After moving into her townhouse and lending Sonja a hand with some interior design, Frenchie eventually went back to France to work and he and Sonja mutually broke up. (Another point of contention in their relationship seemed to be Frenchie's desire to raise children, and Sonja's obviously incongruent life stage.) But Rocco, closer in age to Sonja and clearly on the same lifestyle page, was waiting in the wings and they picked right back up when Frenchie left.
Although we've watched Sonja date plenty of men since joining the cast of Real Housewives of New York City in Season 3, she's never really settled down with one serious partner. And while Rocco could turn into that person, it honestly seems like Sonja prefers longterm, vaguely romantic friends-with-benefits connections, which is perfectly fine. She doesn't seem to be experiencing a shortage of interested suitors and, as she correctly guessed last season, re: Luann and Tom's disastrous attempts to make it official, you definitely do not marry your friend-with-benefits.
Check out Romper's new video series, Romper's Doula Diaries:
Watch full episodes of Romper's Doula Diaries on Facebook Watch.