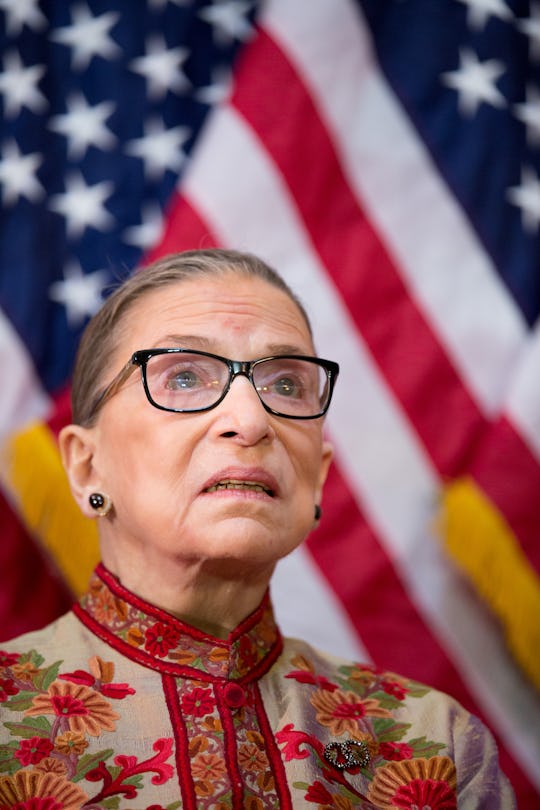 Allison Shelley/Getty Images News/Getty Images
What Does Ruth Bader Ginsburg Think Of Hillary Clinton? She's Been More Vocal About Trump
U.S. Supreme Court Justice Ruth Bader Ginsburg didn't earn the nickname "Notorious RBG" for nothing. In recent years, the octogenarian's pioneering career and reputation for writing fierce dissents — as she did in the court's June 2013 decision striking down a portion of the Voting Rights Act — has elevated Ginsburg to a sort-of hero status. A Tumblr blog launched in 2014 by MSNBC reporter Irin Carmon and then-NYU law student Shana Knizhnik bestowed Ginsburg with the informal moniker, forever cementing her place in pop-culture history. Given the brouhaha of the 2016 presidential election — and penchant for bluntly giving her opinion on a variety of topics — you might be wondering what Ruth Bader Ginsburg thinks of Hillary Clinton... and Donald Trump, for that matter. Let's see what the record shows, shall we?
In a July interview with Mark Sherman of the Associated Press, Ginsburg said she didn't want to think about the possibility of a Trump presidency, remarking that "... if it should be, then everything is up for grabs." With a smile on her face, she then dropped a hint about what she presumes will be the results of next week's election:
It's likely that the next president, whoever she will be, will have a few appointments to make.
An internet search for additional views Ginsburg may have on Clinton has proven fruitless, so surmising what Gingsburg really feels about the former first lady and Secretary of State might be best accomplished by reviewing her observations about Clinton's opponent. Just days after the aforementioned AP interview, Ginsburg doubled down on her feelings in an exchange published in The New York Times, suggesting she would move to New Zealand should a certain orange-haired nominee win the presidency:
I can't imagine what this place would be — I can't imagine what the country would be — with Donald Trump as our president. For the country, it could be four years. For the court, it could be — I don't even want to contemplate that.
Given that it's rare for Supreme Court justices to wade into politics during an election year — at least so far as to indicate which candidate they might support — a public debate about the appropriateness of RBG's comments quickly ensued. Some critics, including House Speaker Paul Ryan, said her remarks were "inherently biased and out of the realm," according to ABC News; Bloomberg's Noah Feldman, however, wrote that it was "fine" for Ginsburg to speak her mind:
To put the point more seriously, there's nothing wrong with a sitting Supreme Court justice expressing her personal political views when they don't implicate any case that's currently before the court.
Despite the criticism, RBG showed no signs of backing down, later telling CNN's Joan Biskupic that Trump is "a faker":
He has no consistency about him. He says whatever comes into his head at the moment. He really has an ego. ... How has he gotten away with not turning over his tax returns? The press seems to be very gentle with him on that.
Of course, Trump's reaction was swift — and nothing short of his usual tendency to engage in personal attacks against his dissenters:
The ability of a president to nominate justices to the nation's highest court has been one of the most important issues this election cycle, especially given the refusal of Senate Republicans to hold hearings on current Supreme Court hopeful Merrick Garland — whom President Barack Obama nominated back in March to fill the seat created by the sudden death of Justice Antonin Scalia, according to The New York Times. While there's no way of knowing how many justices the next president might appoint, Trump himself has said it could be three or four, the potential results of which could be a strong shift in the court's ideological makeup.
Luckily, though she's now 83 years old and has served on the Supreme Court since 1993, Ginsburg — who meets with a personal trainer a few evenings a week for workouts involving squats, planks, and push-ups, according to Rolling Stone — shows no signs of slowing down. In fact, Above the Law reports that she (and other judges) have already finished the hiring process for the term that begins in October 2017. So, no matter who wins the presidency, it's safe to say Notorious RBG is in it for the long haul.