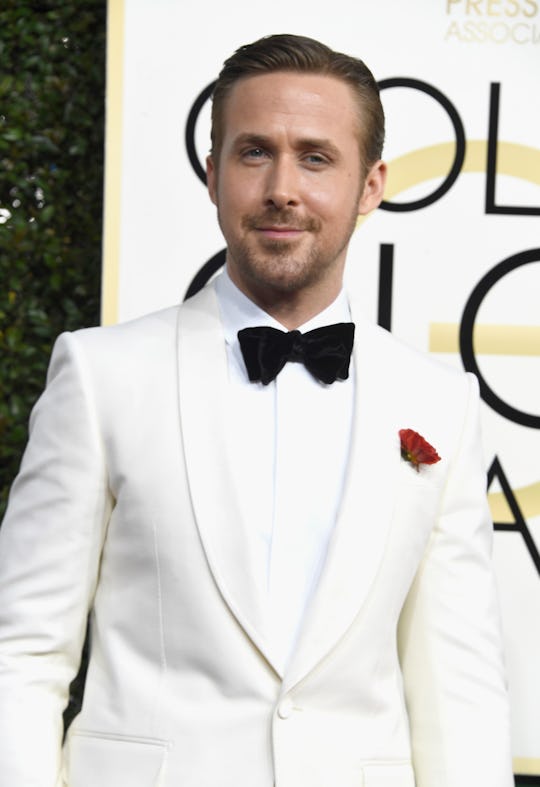 Frazer Harrison/Getty Images Entertainment/Getty Images
What's Ryan's Red Flower Mean?
When The Gos (that's his nickname, right?) finally made his way on to the red carpet ahead of the 2017 Golden Globes, there was just one question on everyone's minds — and no, it was not "Is he single yet?" People were curious what Ryan Gosling's red flower at the Golden Globes means, and to be honest, I'm right there with all those asking. Many think that the flower and his outfit as a whole are a nod to Old Hollywood glamour, the kind of glamour that's all touches every single corner of his fan- and critic-favorite film La La Land (which is, by the way, expected to clean up not only at the Globes but at every award show this season).
But the red flower could be a Malmaison Carnation, which was first seen as "making a statement" when worn with a tuxedo the first time the Duke of Windsor wore it on his buttonhole during his marriage ceremony, according to the website Gentleman's Gazette. According to the website, a Malmaison Carnation consists of the "petals of usually three carnations" placed together in a "condensed manner" that makes for a flattering shape when worn on the buttonhole of a tuxedo.
So, one has to wonder, is that the look that Gosling was going for?
According to an explainer on on what carnation colors mean on the website Building Beautiful Souls, carnations became the official flower of Mother's Day as a means to symbolize and honor moms. As the site explains, you wear a red carnation if your mother is still with you — and if that's the reason Gosling added the flower to his outfit, the symbolism is incredibly touching.
In 2013, Gosling took his mom with him to the premiere of his movie Gangster Squad, walking the red carpet with his leading lady in tow. At the time the star was dating actress Eva Mendez and he joked his mom was "wearing all my girlfriend's clothes." His mom, whose name is Donna, even played along, adding: "I'm wearing Eva Mendes tonight. I raided her closet." The two are incredibly close, so if the flower is a nod to their relationship, well then, excuse me while I melt.
But the flower could also be in honor of his partner, Mendes, who didn't walk the carpet with him. The twosome share two daughters together — Esmerelda and Amada — and the actor was more than happy to gush over just how much fatherhood has meant to him, as has co-parenting with Mendes to GQ:
Your whole life, you hear what it's like to have kids, and all the clichés are true. I felt I knew that everything would be different, but until you experience that, there's no way to really know what people mean. Eva's the dream mother, and they're dream babies, and it's like a dream that I'm having right now. I'm dreaming it all. So I feel so lucky.
Which is to say, if the flower is a testament to the woman he wishes he could walk the carpet with, I just have one thing to say to the rest of the men in the world: Take. Notes.