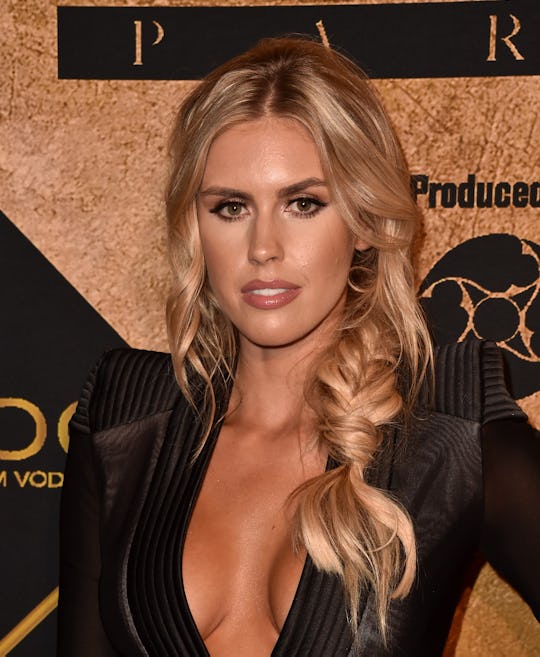 Alberto E. Rodriguez/Getty
What Does Ryan Lochte's Girlfriend Do? Kayla Rae Reid Keeps Busy
After a whirlwind Olympics season filled with the kind of drunken scandals that could have been the plot of The Hangover 4, in which Ryan Lochte allegedly got drunk, made some bad decisions, and then lied to his mom about it, sparking an international incident and ensuing hijinks, Lochte has decided to use his involuntary sabbatical to learn how to dance. He's joined the cast of this season of Dancing With the Stars, and has the support of one lucky lady, named Kayla Rae Reid. What does Ryan Lochte's girlfriend do for a living? She's got a few things going on.
As could probably be surmised from a cursory glance at her Instagram account, which is heavy on gorgeous shots on the beach with perfect, windswept hair, Reid is a model. She's best known as a Playboy Playmate, and was Playmate of the Month for July of 2015. She was also "crush of the week" on AskMen, in which she revealed that the best gift she has ever received from a significant other was loyalty, which should make holiday season fairly easy for Lochte. Before working for Playboy, Reid was also a "Monster Girl," and toured the country as a representative for Monster Energy Drinks at motocross events. According to one casting call, there are a few requirements to get this gig. "It's a tough job, what with all that heavy lifting of trophies, counting to 30, lounging around in the Monster Energy Station hot tub, and just being smoking hot all day."
In an interview with Playboy, Reid goes a little further into detail as to what she does when she's not modeling. She loves cooking, being outdoors, working out, and spending her time with family and friends. Oh, and she would also like to be the first playmate in outer space.
Lochte and Reid met the way most people meet in this day and age, on Tinder, in the spring of 2016. And from the looks of things the two have been nigh inseparable ever since. Reid stood by her man throughout the Rio scandal, and one can only imagine that she is still his number one cheerleader and fan as he jives and rumbas his way to (hopefully) the mirrorball trophy.