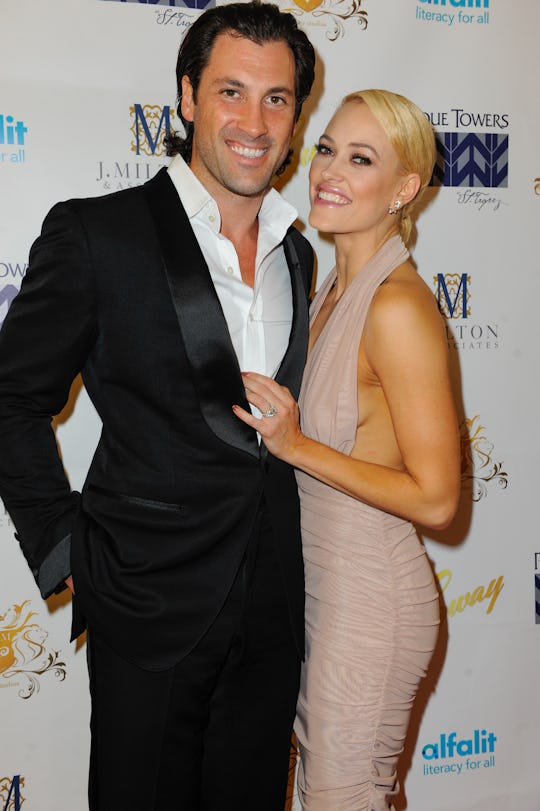 Sergi Alexander/Getty Images Entertainment/Getty Images
This 'DWTS' Couple Gave Their Son A Beautiful Name
Dancing With The Stars' Peta Murgatroyd and Maksim Chmerkovskiy welcomed their first child, a son, on Wednesday morning. Chmerkovskiy posted the announcement to his Twitter mid-morning on Wednesday. The couple also revealed their son's name: Shai Aleksander. Fans of the show are probably Googling: what does Shai mean? It's a popular Hebrew name, traditionally for boys.
It's probably no surprise that Murgatroyd and Chmerkovskiy, two of the professional dancers on Dancing With The Stars, met on the show, and last year Chmerkovskiy proposed during a live performance. The couple announced they were expecting their first child together over the summer and revealed it was a boy back in August. Murgatroyd, who is from New Zealand, and Chmerkovskiy, who is Ukranian-American, are both professional ballroom dancers who joined the cast of Dancing With The Stars after several successful years on the competition circuit.
Chmerkovskiy has been with the show almost its entire run (he joined in the second season), while Murgatroyd is a fairly new addiction, having joined the show in Season 12. The couple met and quickly became friends, but their romance took a while to develop. "I think it's awesome we have a massive history," Chmerkovskiy told PEOPLE in 2015. "It'll make a great story to tell our kids one day."
After Chmerkovskiy posted a video to Instagram that appeared to be the couple zooming down Park Avenue en route to the hospital Tuesday night, he followed up with a photo of Murgatroyd in a hospital bed, applying her makeup. The announcement that their first child had entered the world, a son named Shai, sprung up on Twitter mid-morning Wednesday.
The name Shai (pronounced "shy") is a Hebrew name, according to Behind The Name, that means "gift." The name is traditionally a boy's name, and while it's sometimes confused with Shay or Shea, it's pronunciation usually helps people correctly guess the spelling. On The Bump message boards, a few moms weighed in saying that the name can sometimes be feminized as Shailyn (pronounced "shy-leen) or Shia'anne ("shy-anne", similar to the name spelled "Cheyenne") where Shai is used as a nickname.
Back in October, Chmerkovskiy told PEOPLE he plans to take time off to be at home with Shai, and won't be returning for Dancing With The Stars' 24th season: "For me to be able to take time off in this way… [to have] what we have to enjoy and be proud of, that's anybody's dream."