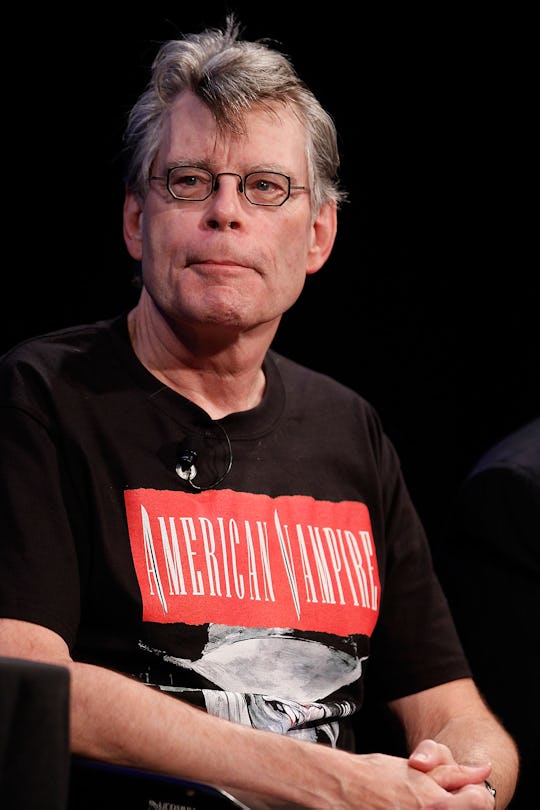 Joe Kohen/Getty Images Entertainment/Getty Images
Here's What Stephen King Thinks Of 'Castle Rock'
As a fan of Stephen King, I was really excited to revisit his works with Hulu's new series, Castle Rock. While the show wasn't written or created by King himself, it does take inspiration from a variety of his works and is set in his fictional town of Castle Rock, Maine. Like any good King story, the series is very dark and full of ominous characters. But what does Stephen King think of Castle Rock, and is he on board with this adaptation of his work?
The fact that King is serving as an executive producer of the show speaks volumes, and he has publicly promoted it on Twitter. In an interview with Entertainment Weekly, Castle Rock creators Sam Shaw and Dusty Thomason revealed that King expressed his approval of the show in an email to producer J.J. Abrams. "It was a very, very cool moment, when J.J. forwarded us the email," said Shaw. "You want to be sure that when Stephen King watches your Stephen King show, he's happy."
In a 2018 ATX Television Festival panel, Shaw and Thomason talked about the show, its inspiration, and the reaction they received from the author. As fans of King's work, the duo discussed their fascination with the town of Castle Rock, and the intrigue of revisiting the town in a modern setting. "What is a town like Castle Rock like now?" said Thomason, "I think we were excited about coming back to this town that haunted our childhood dreams and what it would be like in the modern era."
They also talked about how the idea came to be reality, and attributed King's initial endorsement of Castle Rock to his relationship with J.J. Abrams, who worked with the author on 11/22/63. "We were really gratified when he said yes, in part because we weren't the first people to knock on his door asking for a cup of sugar — and to please be able to set a TV show in Castle Rock," said Shaw, "It's probably just the strength of his relationship with J.J. that made this possible."
For the creators, King's final seal of approval for the show came after he watched the first episode. "We were really excited," Thomason said during the panel, "because he [King] said that for the first time in a very long time, he called out to his TV to tell someone to not go where they were about to go."
King has also promoted the show on Twitter "Want to visit my little town?" he wrote above a link to the show's trailer, "CASTLE ROCK premieres on Hulu 7/25."
For both King superfans and newcomers alike, Castle Rock promises to be full of suspense and intrigue. The show opens with the suicide of a Shawshank Prison warden, and the discovery of a creepy young man he had hidden in the bowels of the prison. With the emergence of The Kid, as he's called, the town begins to slowly unravel as its deepest and darkest secrets are brought to the surface.
If King himself has given the show a thumbs up, you can assume it lives up to his standards of horror. The first four episodes of Castle Rock are available to stream on Hulu, with new episodes premiering every Wednesday.