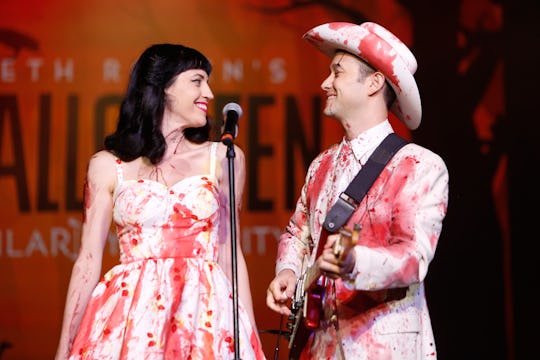 Randy Shropshire/Getty Images Entertainment/Getty Images
Joseph Gordon-Levitt's Wife, Tasha McCauley, Is An Amazing Businesswoman
You know the saying, "Behind every strong man is a powerful woman." That could not be more true for actor Joseph Gordon Levitt, whose wife, Tasha McCauley, is indeed a very powerful woman. While you might remember Gordon-Levitt best as the scrawny teen looking for love in 10 Things I Hate About You or the confused millennial hopelessly falling in love in 500 Days of Summer, Gordon-Levitt is now an adult, all grown up and married with two kids of his own. But what does Tasha McCauley do? Gordon-Levitt's wife is actually a very successful business and technology developer.
Gordon-Levitt and McCauley welcomed their second child in June, which is more than likely keeping her hands full at the moment. But when she isn't being a mother to her two young children, McCauley is pretty busy — and she's undoubtedly accomplished a lot for someone her age.
McCauley is a business women and robotics expert, according to Today, combining her talents to start two impressive businesses. According to her LinkedIn profile, she's the current business developer of GeoSimCities, a program that allows companies to create 3D models of cities with incredible precision and navigation for multiple uses, like city modeling and governance.
McCauley is also the co-founder of Fellow Robots, a robotics company based at the NASA Research Park in Silicon Valley that provides solutions to retailers through robots (it's some seriously cool technology). It's only right that someone with this kind of resume would have a shining educational background, too: According to McCauley's LinkedIn profile, she received her undergraduate degree from Bard University in 2004 and received a Master's Degree from the University of Southern California in Business Administration in 2014.
These jobs are only fitting for McCauley, who describes herself as someone who "enjoys building things, discovering how things work, and spends a lot of time thinking about how to make user interfaces that facilitate and enhance creativity."
Not only are McCauley's business ventures impressive, her personal ventures are, as well: McCauley knows how to speak three languages — English, Spanish, and Arabic — and has traveled to impressive places like Antarctica and Cuba, according to People.
This business developer and her actor husband didn't meet through their respective fields, then, obviously. Gordon-Levitt and McCauley met through mutual friends, according to People, and despite her husband's career, which often puts him in the public eye, McCauley has no interest in fame. McCauley's Twitter account echoes that — she is all business and technology. And despite being so successful, McCauley is humble about her accomplishments. "I'm married to a woman who doesn't want strangers being privy to her life and relationships," Gordon-Levitt told Playboy in 2014.
It is understandable for McCauley to want to remain out of the spotlight and focus on her career, as she has accomplished so much already — here's to even further future successes for the businesswoman and mom of two!