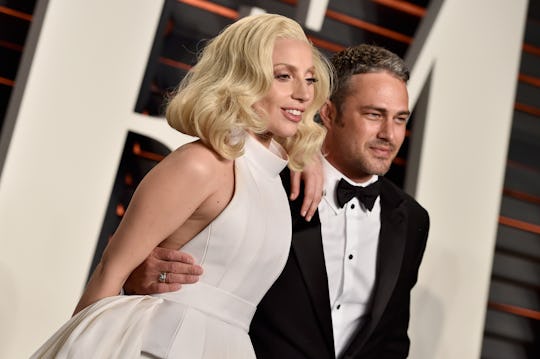 Pascal Le Segretain/Getty Images Entertainment/Getty Images
Did Taylor Kinney See Gaga's Halftime Show?
Lady Gaga slayed her Super Bowl halftime performance Sunday night, and fans were more than happy with her singing, dancing, and acrobatics as she took over the Super Bowl stage. But inquiring minds want to know: what did Taylor Kinney think of Gaga's halftime show? The actor and Gaga only split last year after spending five years together, and the two are clearly still close friends, so most people wouldn't be surprised if Kinney weighed in on his ex-girlfriend's big show.
Unfortunately for those inquiring minds, Kinney isn't all that vocal on social media, especially when it comes to personal topics. (When a fan recently tweeted at Kinney that he didn't know what to say on social media, Kinney responded, "I'm not so great at this sh*t either.") His latest tweets took place in January, and his recent Instagram pictures have all been focused on the show he stars in, Chicago Fire.
However, if Kinney were to comment on Gaga's performance, he would likely be supportive. The couple decided to end their engagement in July 2016, but since the break-up, Gaga has said they remain supportive friends. In an Instagram post about their split, Gaga wrote:
Taylor and I have always believed we are soulmates. Just like all couples we have ups and downs, and we have been taking a break. We are both ambitious artists, hoping to work through long-distance and complicated schedules to continue the simple love we have always shared. Please root us on. We're just like everybody else and we really love each other.
Kinney has reportedly remained close to Gaga despite the separation, and in December, he even helped Gaga's mother put on an event for Gaga's Born This Way Foundation. (A picture of the event did bring up plenty of rumors about Gaga and Kinney reuniting, but it turned out the two were just managing their break-up in a super friendly, healthy way.)
According to The Daily Mail, Gaga also spoke of her friendship with Kinney during an interview on the Howard Stern Show. "I'm actually very close to Taylor," she said. "We love each other. That's it."
So while Kinney may not have publicly professed his admiration of Gaga's halftime show, the actor was most likely proud of the Mother Monster and her huge musical milestone. Even if they don't tweet up a storm or post about it publicly, it sounds like Gaga and Kinney still have each other's backs.