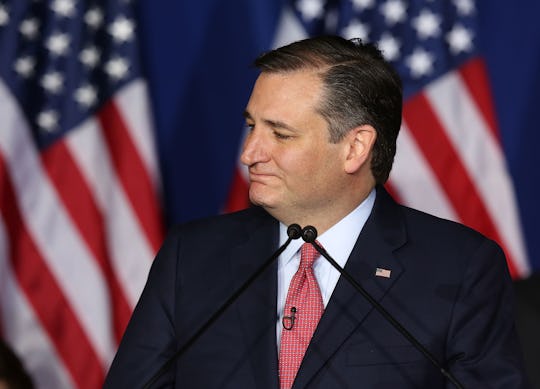 Joe Raedle/Getty Images News/Getty Images
What Does Ted Cruz Dropping Out Mean For John Kasich? His Departure Ushers In Big Changes
On Tuesday night, Texas Sen. Ted Cruz announced that he would be dropping out of the race for the Republican presidential nomination. Although most political pundits are already busy talking about what the senator's departure means for front-runner Donald Trump, the better question is what Ted Cruz dropping out means for Ohio Gov. John Kasich. Whether he decides to stay in the race could mean big things when it comes to the Republican party's convention this July in Cleveland.
For weeks now, Donald Trump and insiders have blatantly said that given the delegate math and Trump's momentum, both Cruz and Kasich would do their campaigns (and the GOP) justice by bowing out gracefully and waiting to see what would happen at the convention. Cruz finally called it quits on Tuesday after his performance in the Indiana primary, but Kasich doesn't seem to have any intention of stepping aside just yet.
Kasich wrote to supporters on Tuesday that despite the results of the Indiana primary, his campaign would go on in the name of trying to earn the nomination for the Republican nominee for president at an open convention. It all comes down to Kasich believing that he can beat Trump on the grounds that he might be the more reasonable candidate for the party and whether he has the wherewithal to stick it out until the bitter end.
It could be an interesting strategy. Many believed on Tuesday morning that after some insane remarks Trump made about his father, Cruz' retort meant that he wasn't planning on continuing to run. He got angry. Kasich seems to be taking the road less travelled. Given his statement, it seems that he believes Trump will further make himself look as "unpresidential" as possible, and the distinction between himself and Trump will work to sway voters (and possible delegates.)
But if Kasich is crossing his fingers for an open convention, which was up for discussion earlier this spring, he might have the GOP to deal with. Shortly after Cruz's announcement that he was dropping out of the race, RNC chairman Reince Preibus tweeted that the party was considering the real estate mogul as the "presumptive nominee" for president. He added that the party should unite against Democratic frontrunner former Secretary of State Hillary Clinton.
That seems like a coded message to Kasich to not force the open convention option come this summer. As it stands, Kasich continues to fall behind in the primaries. On Tuesday, he had just 7.8 percent of the vote in Indiana and a total of 153 delegates, to Trump's 1,041. Trump has been campaigning recently on the "rigged" system, as he calls the nomination process, since the RNC had said that he had to get the total 1,237 delegates to clinch the nomination without a fight. It looks like his complaints might have caused the establishment to come around, given Preibus' tweet on Tuesday.
It doesn't look like there'll be an open convention this summer. Although a Trump nomination isn't very attractive to some voters, Kasich might do well to step aside at this point. Both the Democrats and the Republicans need to start focusing their efforts on getting what they want.