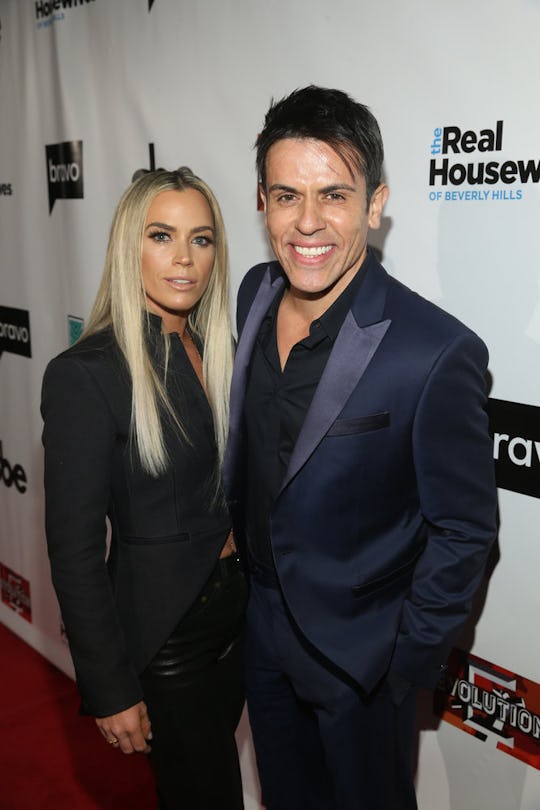 Jesse Grant/NBC
Teddi's Husband Has An Impressive Career Outside Of 'RHOBH'
When a new Real Housewife enters the fold, everyone must also become accustomed to her entourage, which often includes a spouse and children. The newest member of The Real Housewives of Beverly Hills, Teddi Mellencamp, is married with a few kids, so obviously I now want to know literally everything there is to know about him. For starters, what does Teddi's husband Edwin do? The newest power couple to grace our screens on The Real Housewives of Beverly Hills franchise seem to live a pretty sweet life. I can't say for sure what the source of their wealth is, but I have a feeling it has something to do with Edwin's job as a CEO. I don't know, just a guess.
Teddi's bio on the Bravo site states that Teddi is married to Edwin Arroyave, and that he is the CEO and founder of Skyline Security Management, Inc. They live in Los Angeles and have two children together, Cruz and Slate. Teddi is also a stepmother to Edwin's daughter Isabella from a previous relationship. This is obviously very light on details, which means that I needed to dig a little deeper to learn more about how Edwin actually fills his days when he's not going on adorable little outings with his family.
According to his LinkedIn profile, Edwin was forced to develop a superhuman work ethic at a very young age. Since then, he has risen steadily to become a leader in his field. The profile states that Edwin was born in Colombia and moved with his family to Los Angeles when he was just a toddler. It also states that at a young age he was forced to become the "man of the house" and was financially responsible for the rest of his family. Though undoubtedly a struggle, this experience prepared him well for adulthood, and helped him become as professionally successful as he has.
With a few others, Edwin started a security business in 1999 that was very successful. When he and his business partners went their separate ways, however, it was time for him to strike out on his own. He started Skyline Security Management in 2004. Since then, the company has continued to grow steadily. Even a few professional setbacks couldn't keep Edwin down, as he helped the company become an extremely successful dealer of security systems to major companies like Guardian. In 2014, he was named as one of the "Top 20 under 40" for Security System News. Sure, it's a pretty narrow niche, but that sounds like a big deal to me.
According to the company's website, Skyline Security's goal is "helping you protect what matters most," and "to provide you and your loved ones security and peace of mind." The company includes features like visual monitoring, a convenient mobile app, and interactive and automatic security. Basically, it's all very technical and I live in an apartment in New York City so a lot of the information on the site relates to issues I've never even thought about. Now that I think about it, yeah it would be great to see who's at the door when you're out.
But Edwin isn't all business. A quick look at Teddi and his Instagram accounts proves that he's a loving dad and a doting husband, who also enjoys things like ice cream and pony rides. We'll just have to watch the show to see if he's also interested in drama. For the audience's sake I kind of hope so. But for everyone else's, it's probably better if he stays in his lane. Only time will tell.
Check out Romper's new video series, Romper's Doula Diaries:
Watch full episodes of Romper's Doula Diaries on Facebook Watch.