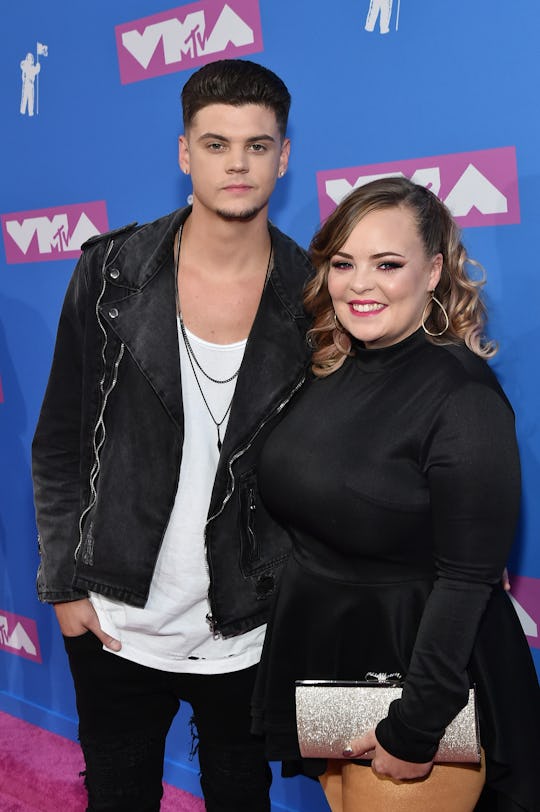 Mike Coppola/Getty Images Entertainment/Getty Images
'Teen Mom OG's Catelynn & Tyler Have Chosen A Very Unique Name For Their Baby-To-Be
Many families struggle to choose a baby name, going back and forth on choices before landing on the perfect one. But one Teen Mom OG couple doesn't seem to be having that problem. After announcing the name of their coming little girl, Catelynn Lowell and Tyler Baltierra may have many wondering, "What does Tezlee mean?" While they have yet to comment on the significance of their chosen name for their unborn babe, the two have certainly picked a very pretty and unique one.
Just a couple of weeks following their pregnancy announcement, Teen Mom OG stars Lowell and Baltierra shared their chosen baby name with fans. In a sneak peek video released last week, the two can be seen at the expectant mom's most recent ultrasound appointment for their third child. In the video, the two comment on the magic of seeing their coming baby on screen at the 4-D ultrasound clinic.
And when the ultrasound tech asks if they have any names in mind for their baby girl, Baltierra quickly replies that they have already chosen a name. "Tezlee," he said. "Tezlee it is." The ultrasound tech replies that the name is "cute," and Lowell's mom April can be seen looking less enthusiastic, as The Ashley reported.
The two of them have not commented on why they chose the name Tezlee. Their other two daughters are named Carolyn, or Carly for short, and Novalee, but goes by Nova. In a past tweet, Lowell explained that she and Baltierra would have used the name Greyson Wayne, had Nova been a boy. But since all three of their kids are girls, they didn't get to use that name after all.
Tezlee is so unique of a name that it isn't ranked on any of the major name sites and no known meaning is reported. It is listed on Names.org as being used in the United States as a first name less than 100 times since 1880 and it has no defined gender. Names.org also provides a pronunciation guide with the same pronunciation that Baltierra uses in the episode, with "Tez" at the beginning rhyming with "Pez."
The name Tezlee could become more popular in coming years though, as HuffPost reported that when celebrities choose unusual names for their children, the names tend to go up in popularity. Less common names for girls like "Arrow," coming from Jensen and Danneel Ackles, and vintage choices such as Mabel and Dusty became a bit more commonplace after celebs chose them.
Suffice it to say that Twitter had mixed reactions to the name that Lowell and Balteirra picked out. There was quite a few critical tweets questioning the couple's name choosing skills. Some people were downright mean about the name Tezlee...
And others thought that it was beautiful and shared that they thought Tezlee went well with Lowell and Baltierra's other daughter's name, Novalee.
Choosing a name for your baby is never easy. Most parents want something that is unique or meaningful, but won't cause them to be picked on too much — my name is Azure, guys, so I'm speaking from experience here. And landing on something that the whole family, or at least both mom and dad, agree on can be difficult as well.
Everyone has their own taste, and ultimately all that matters is Lowell and Baltierra like the name that they went with. No one else really gets a say. But I think everyone should be impressed that they've agreed on something so soon. Only time will tell if the proud parents plan to share more on the meaning behind the name.
This first-time mom wants to have a home birth, but is she ready? Watch how a doula supports a military mom who's determined to have a home birth in Episode One of Romper's Doula Diaries, Season Two, below. Visit Bustle Digital Group's YouTube page for the next three episodes, launching Mondays in December.