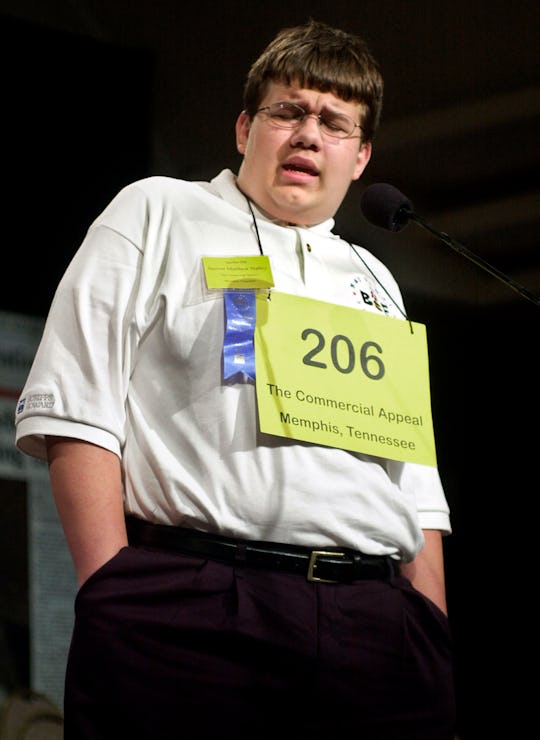 SHAWN THEW/AFP/Getty Images
What Does The 2nd Place Scripps Spelling Bee Winner Get? Serious Moolah, That's What
For a couple days each year, the viewing public goes appropriately nuts watching grade school prodigies spell the most insane words that everybody's never heard of (chiaroscurist, anyone?) at the annual Scripps National Spelling Bee, and subsequently salivates over the hard-won prizes, accolades, and temporary fame the champions earn. I, for one, am prepared to do the same when the 2016 Bee finals air on ESPN Thursday. The past couple years have ignited questions of how the co-winners would divvy up their bounty, given that there were two winners, but the runners-up have achieved quite the accomplishment too. So, what does the second-place Scripps spelling bee winner get?
For the past two years, the Bee ended in a tie, and, both times, it was a pretty big deal. In 2014, Ansun Sujoe, 13, and Sriram Hathwar, 14, nailed "feuilleton" and "stichomythia", respectively, to clinch their shared victory after they took turns firing off the correct sequence of letters to decode the 25 words on a predetermined list. It was the first time the Bee had ended in a draw for more than a half century, and then — bam! — Vanya Shivashankar, 13, ("scherenschnitte") and Gokul Venkatachalam, 14, ("nunatak") did it again the next year.
The Washington Post reported that last year, the two winners did not have to split the $35,000 cash prize promised to the winner. Nor did they have to engage in a battle over who'd get custody of the "trophy big enough to hold the money."
This year, the Bee officials have tweaked the rules to discourage dual winners. The hope is that just one winner will go home with the 2016 cash prize of $40,000, as well as the hefty Scripps National Spelling Bee engraved trophy. That's not to mention the $2,500 U.S. savings bond and complete reference library from Merriam-Webster, $400 worth of reference works courtesy of Encyclopædia Britannica, AND a trip to New York City to appear as a guest on LIVE with Kelly.
In all this hysteria over the first-place winner(s), it's easy to forget about the other kids in the competition, and even though they may not take home the grand prize, they're still freakin' awesome, spelling words like, oh, I don't know, eleemosynary and nunchaku.
And the finalists are well-compensated for their efforts. (Just imagine the amount of studying involved in this. And a lot of them are, like, 12.) This year, the second place winner will go home with a cool $30,000, while the third, fourth, fifth, and sixth-place winners will head home $20,000, $10,000, $5,000, and $2,500 richer. That should be plenty for a few bottles of Malbec to relax after the stress of the bee. Oh, wait. They're kids. That's just me, watching.
But all of this year's 285 spellers (including one 6-year-old) have undoubtedly been busting their butts to prepare for this competition. All the adults involved know that, and respect it, so each brainiac will receive —in addition to the really cool experience of participating in the Bee — a Kindle Paperwhite and a "commemorative cover" from Kindle, Webster's Third New International Dictionary, Unabridged from Merriam Webster, a one-year membership to Brittannica Online Premium thanks to Encyclopædia Britannica, and even The Samuel Louis Sugarman Award.
They also get bragging rights. Lots and lots of bragging rights, because just the fact that they are there shows that they are super bright and poised to succeed as they work their way towards high school (geez, they're not even in high school yet. These youngsters are accomplished).