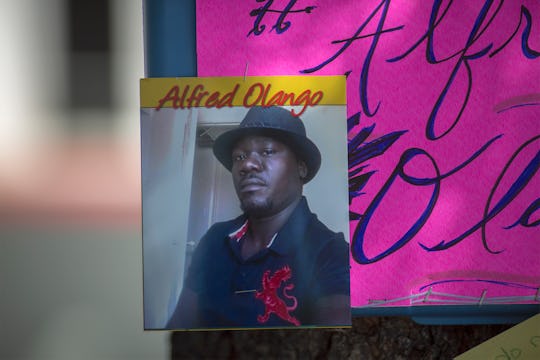 David McNew/Getty Images News/Getty Images
What Does The Alfred Olango Video Show? Olango Was Unarmed The Whole Time
This week, yet another black life had been taken due to the hands of police. Alfred Olango, a resident of El Cajon, California, is among those who died this month due to reported police shootings. It is heartbreaking and devastating to hear these stories and see these videos, which make people have to ask — when will the violence end? On Friday afternoon, El Cajon police finally released the video of Alfred Olango's shooting, but what does the Alfred Olango video show and is it different from initial reports?
The Alfred Olango video shows that Olango was innocent this whole time. According to USA Today, the video from this Tuesday shows an unarmed Olango backing away from a police officer before reportedly being shot four times — someone is then heard screaming in the background. According to CNN, Olango had pulled a "vaping device" from his pocket, took a reported "shooting stance" and pointed it at the police officers. It was then when one police officer discharged a Taser at Olango and another shot him — all of this is captured on video. According to USA Today, police were on the scene after responding to a call about a "man behaving erratically." According to USA Today, a woman identifying herself as Olango's sister reportedly took to social media and said that Olango "suffered from mental challenges" and "called emergency responders for help." The moments that were captured on the recently released video happened instead. According to CNN, in the moments before the taser was deployed, Olango reportedly kept his hands in his pockets and reportedly rapidly pulled out the vaping device with both hands. The El Cajon Police Department did not respond to a request for comment.
The very short video is cofounding. It is absolutely heartbreaking to watch this video, knowing that Olango appeared to not have posed a threat and was unarmed. According to USA Today, El Cajon Police Chief Jeff Davis said that the video was released on Friday "for the sake of the well-being of the community" and the amount of misinformation circulating the shooting. "This was done in the spirit of community calm and peace," Davis said. According to ABC 7, protests broke out in El Cajon Thursday night before the video footage was released. Two people were reportedly arrested at the protest and officers had responded to the protest wearing riot gear. According to New York Daily News, the protests had mostly been peaceful after Olango's death but "turned violent" Thursday night. According to The Guardian, Davis said that misleading information about the shooting "had potential to create unrest in the community."
However, the Alfred Olango shows what many fear to be true — another unarmed, innocent black man is dead.