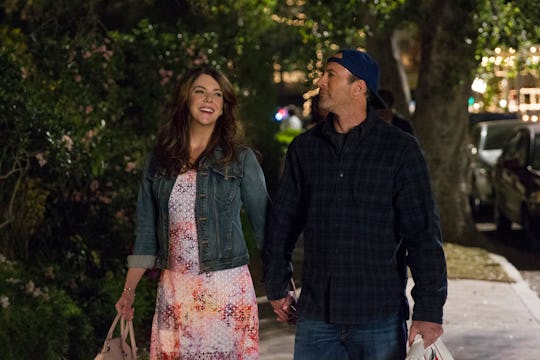 Saeed Adyani/Netflix
What Does The Apple Mean On 'Gilmore Girls'? The Pop-Tart Appetizer Is Back
As we get closer and closer to the release of Gilmore Girls: A Year in the Life, rumors and questions about what will happen in the four part revival continue to swirl. Will someone get married? Who's returning to Stars Hollow? What does the apple mean on Gilmore Girls? Wait, what? An apple? Yep, even apples have significance now.
On Tuesday the official Gilmore Girls Instagram posted a cute photo of Lorelai's kitchen and on the table sat a plate of Pop-Tarts with an apple in the center, which has made Gilmore Girls fans begin to freak out. What does that apple even mean? Why would there be an apple in Lorelai's kitchen? She doesn't eat healthy foods. Unless she's pregnant that is. Back in Season 5 of Gilmore Girls, Lorelai had a pregnancy scare after she and Luke got carried away and had unprotected sex. The reason Lorelai suspected she was pregnant was because she began to crave apples, something she hadn't done since she was pregnant. Back then it turned out to be a false alarm, and Lorelai wasn't actually pregnant. But does this new promo picture for the upcoming revival mean we'll finally see a Lorelai/Luke baby?
The answer is probably not. Despite popular belief the promo photo is actually a reference to Lorelai's Pop-Tart appetizer that she made back in Season 1 for Paris, Louise, Madeline, and Rory before they went to the Bangles concert. The appetizer was really just Pop-Tarts on a plate with an apple in the center. Nothing fancy but so totally like Lorelai.
So there you have it. There isn't really a secret meaning to the picture. Lorelai's probably just having a nice get together and decided to bring back her oh so popular Pop-Tart appetizer. She's probably not pregnant, but she probably is happily with Luke, based on the other promotional photos we've seen. As cute as it would be to see Luke and Lorelai have a child together, maybe it just wasn't meant to be. As long as Luke and Lorelai are happy, that's all that matters.