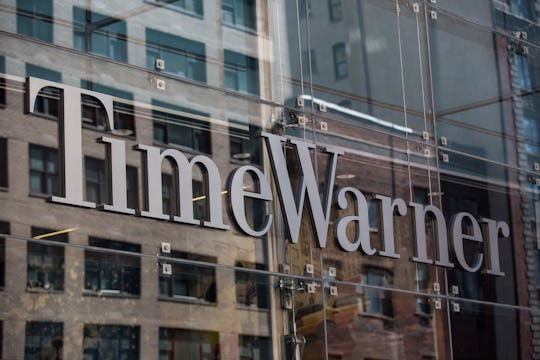 Andrew Burton/Getty Images News/Getty Images
What Does The AT&T, Time Warner Merger Mean For Consumers? Changes Are On The Horizon
This past Saturday, AT&T purchased Time Warner for $85.4 billion dollars — a huge deal for a huge company. Time Warner is a media company that currently owns major TV networks such as HBO, CNN, TNT, and Warner Brothers Film Studios; AT&T is a phone, internet, and TV provider. But what does the AT&T, Time Warner merger mean for consumers? It can provide new and exciting content to AT&T customers.
But first — a little background about this major purchase. According to USA Today, this merger creates a "media powerhouse" and might give other wireless phone and internet provider companies — such as T-Mobile and Verizon Wireless a reason to be scared. This is because it marries AT&T — which is a major distributor — with a major content generator like Time Warner, producing a large media conglomerate that, according to USA Today and many analysts, will make other companies want to follow suit. According to CNN, this merger means that AT&T will become much more powerful, as they now own things like the Harry Potter franchise, HBO and everything that comes with it.
But what does this mean for consumers who subscribe to HBO or have a phone through AT&T? According to CNN, this could potentially mean "new ways to pay for entertainment, new ways to interact with sports, and new ways to distribute news" especially through cellphones.
AT&T also owns DirecTV. With AT&T's new purchase, DirecTV customers will now have access to all of Time Warner's content, like HBO shows, DC Entertainment Films and its franchises, according to USA Today. According to Forbes, this merger will effect millions of Americans — AT&T cellphone customers will be able to see better entertainment offerings through their smartphones with content just built for mobile devices. However, as Forbes points out, a lack of competition could potentially drive up prices — making the average consumer's phone bill and monthly HBO Go payment, which may have felt expensive enough already, even higher.
While this merger will more than likely mean good things for how consumers access entertainment on their devices — especially ones owned by AT&T — not everyone was for the merger. According to Reuters, Democratic vice presidential candidate Tim Kaine, along with several law-makers are concerned about the merger. "I'm pro-competition," Kaine said on Meet The Press Sunday morning. "Less concentration, I think, is generally helpful especially in the media." Republican presidential candidate Donald Trump even said at a rally on Saturday that he would block the deal between the two companies if he were to become president.
Despite concerns, this major merger will change media forever. It proves that more people are consuming media in different ways and gives AT&T the power to change what the future looks like — for better or worse.