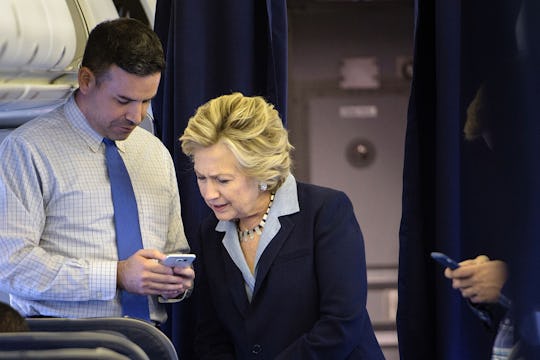 BRENDAN SMIALOWSKI/AFP/Getty Images
What Does The Clinton Email Hack Show? Not What Trump Was Hoping For
The latest hack and subsequent dump of Clinton campaign staffer John Podesta's emails has produced what amounts to the script of a soap opera, with infighting among Clinton Foundation staffers. While Donald Trump has long accused Hillary of granting political favors to corporations and foreign governments that made donations to the foundation, Clinton email hack revealed that the foundation's staffers were keenly aware of the possibility that they might be accused of impropriety, and worked hard to avoid it.
Clinton opponents no doubt hoped that the hack would reveal ties between the Clinton Foundation and the former Secretary of State's political dealings, but the latest email shows the opposite to be true. In particular, the discord between Chelsea Clinton and former Bill Clinton aide Doug Band shows that Chelsea was concerned that Band's involvement in the family's charitable foundation while separately running his own company was inappropriate, and that he was "hustling" the Clinton Global Initiative's donors for business for his consulting firm, Teneo. Chelsea enlisted a law firm to audit the foundation's practices, according to The New York Times, and a New Republic piece from 2013 claims that she, along with her mother, then-Secretary of State Hillary Clinton, both pushed for Band's ouster.
Band's career began as a White House intern in 1995, and he climbed up the ladder while earning a law degree, eventually becoming Bill's "body man," or top personal assistant, in 2000. When Bill's second term was up, Band stayed on with him, now as his counselor, and helped him to create the CGI. After co-founding Teneo in 2010, Band stayed on the CGI board for another year. Bitter emails sent from Band to Podesta and Hillary's former Chief of Staff, Cheryl Mills, in November 2011 reveals that Band sought to keep his position; in one, he called Chelsea "a spoiled brat" and in another, he complained that Chelsea had "gone to daddy to change a decision or interject herself in the process."
In what some point to as the most damning leak, Band defends himself by pointing out that he had to sign a conflict of interest policy as a board member of the CGI, yet Bill did not, despite being "personally paid by 3 cgi sponsors" and receiving "many expensive gifts from them," the implication being that Bill, not Hillary, opened himself up to the possibility of donors seeking favors from the former president. However, other leaked emails show that when Ukrainian businessman and Clinton Foundation donor Victor Pinchuk badgered Bill for a personal meeting in 2015, Podesta advised against it, and when Salman bin Abdulaziz Al Saud, King of Saudia Arabia, asked to meet with Bill, Podesta wrote that it was "manageable" if Bill was interested, but "Not something that would be on our top 10 list." To date, no quid pro quo between Clinton Foundation donors and the Clinton family has been uncovered.