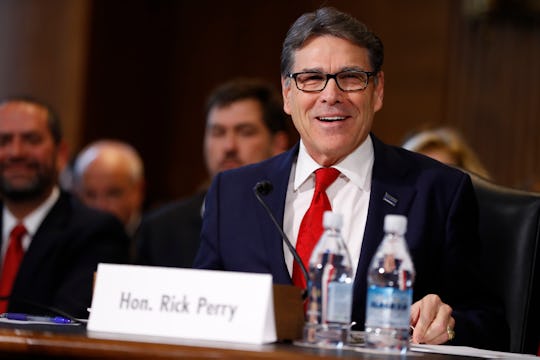 Aaron P. Bernstein/Getty Images News/Getty Images
Rick Perry Now Knows What The DOE Does
Former Texas Gov. Rick Perry, a man who once forgot the Department of Energy existed, then called for its elimination, began his confirmation hearing on Thursday morning to become the secretary of the same agency. It was only weeks ago that Perry actually learned what the Department of Energy does, according to The New York Times, well after President-elect Donald Trump asked him to run it. While Perry originally believed that his job would be to act as a "global ambassador for the American oil and gas industry," his main duty would actually be to oversee the U.S. nuclear weapons arsenal, "the most fearsome weapons on the planet."
The majority of the DOE's $32 billion budget is dedicated to the nuclear program – building, maintaining, and safeguarding the weapons, cleaning up nuclear waste, and funding research in the national laboratories. The current secretary is Ernest J. Moniz, a former chairman of the Massachusetts Institute of Technology physics department. He replaced Nobel Prize winning physicist Steven Chu in 2013. According to the Times, Perry "studied animal husbandry and led cheers at Texas A&M University." He also pronounces "nuclear" Homer Simpson-style, a gag meant to illustrate the cartoon power plant worker's incompetence.
According to Vox, only 20 percent of the DOE's budget is dedicated to Perry's idea of "energy," such as developing new drilling techniques and exploring renewable energy. Under the Obama administration, the department shifted its focus towards clean energy, granting loans to programs dedicated to solar and wind power, and electric cars. The Trump administration is expected to abandon those efforts in favor of oil, natural gas, and coal. Perry, a longtime climate change denier, is expected to champion these efforts.
According to Politico, Perry walked back some of his earlier statements during his confirmation hearing on Thursday, saying that "after being briefed on so many of the vital functions of the Department of Energy, I regret recommending its elimination." He also admitted that "the climate is changing," and said he believes that this is partially due to "manmade activity." But like State Department nominee Rex Tillerson and attorney general nominee Jeff Sessions, he refused to acknowledge that carbon emissions were the cause, and expressed more concern for the jobs and profits fossil fuels provide.
According to PBS News Hour, Perry owns stock in Energy Transfer Partners and Sunoco Logistics Partners, the developers of the Dakota Access Pipeline. His only experience with nuclear power appears to be his support of the creation of a federal nuclear waste facility in Texas that's run by Waste Control Specialists, a private company that's contributed to Perry's failed presidential campaigns.