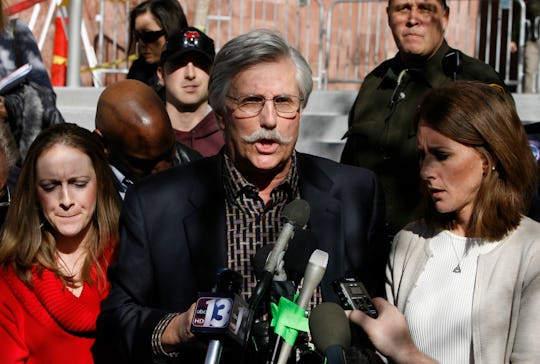 Getty Images Pool
What Does The Goldman Family Think Of 'The People V. OJ Simpson'? They Wish People Would Think Of Ronald
To younger viewers, the FX series The People v. O.J. Simpson: American Crime Story may seem like a gripping courtroom drama, but remember: this is a true story, and many of the key players are still alive and watching it. Those who recall the 1995 murder trial of Simpson will no doubt remember that the family of Ron Goldman was very vocal about the case, and indeed, for long after Simpson was found innocent. They filed a civil suit against Simpson, and he was found criminally liable for the deaths of Ronald Goldman and Nicole Brown Simpson in 1997. The Goldman family also acquired the rights to Simpson's hypothetical confession book, If I Did It, in 2007 (which they retitled If I Did It: Confessions of the Killer, and also redesigned the cover so that the "If" is barely noticeable). So what do the Goldmans think of The People v. O.J. Simpson? Surprise! — they're pissed.
Ronald's sister, Kim Goldman, told Extra that while she knows that nobody needed to ask her permission to create the show, she wishes that they would have. "I just feel that it would have been humane of the production company to have reached out." The series is specifically about the trial, not the victims or the murder itself, which also irks Kim, according to Extra:
My dad and I have worked really hard to make sure that his name is always remembered and mentioned, that Ron and Nicole are not forgotten in all of this.
Kim did have one surprising positive comment, though. While she's bothered that the only time her brother appears on the show is when he's "being cut up, basically, and left for dead," she is appreciative that the producers accurately portrayed the brutality of the murder. "I want people to know how vicious and violent their attacks were," she told Extra.
Ronald's father agreed. In an interview with local news station KTVK, Fred Goldman said that the premiere of The People v. O.J. Simpson was particularly disturbing to him, as he's still never seen the actual crime scene photos. But, still, he too praised the show for its authenticity in that particular scene."I want people to know the savagery of that crime. I want people to know that Nicole was nearly decapitated. I want people to know that Ron was stabbed 30-some-odd times, including the jugular. I want people to know it was a vicious, horrible crime. This was a violent, violent murder."
The family was against the series from the start. In a Dr. Phil appearance in January, Kim complained about how she can never get closure on Ron's death with the case being constantly dredged up, and Fred questioned the famous scene in which Simpson threatens suicide in teenage Kim Kardashian's bedroom. "I don't believe for a minute that he ever considered killing himself; he's too much of a sociopath," Fred said. Also present during the show was Jeffrey Toobin, the author of The Run of His Life: The People v. O.J. Simpson, the book on which the TV series was based. Toobin told Dr. Phil that Simpson really did threaten suicide, but "whether he was actually ever gonna do it is something we will never know."
But what bothers the Goldman family the most is that the man that they believe to be responsible for Ronald's death is once again back in the spotlight, while nobody really knows much about Ronald himself. "What I think is unfortunately going to get lost in this is that my brother was doing a good deed," Kim told Today. "[He] walked in on what we believe was a horrific crime and he didn't run." She's distraught that The People v. O.J. Simpson doesn't cover that aspect. "My brother could've run and saved his own life. And he stayed to help his friend [Nicole] ... I want people to remember my brother was a hero."