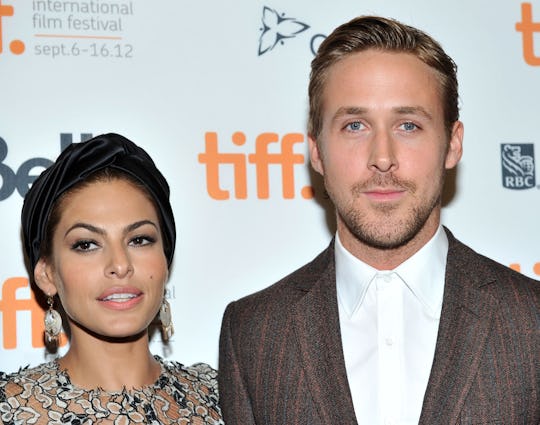 Sonia Recchia/Getty Images Entertainment/Getty Images
What Does The Name Amada Mean? Eva Mendes & Ryan Gosling Were Inspired By Mendes' Family
When it comes to having babies on the down low, actors Ryan Gosling and Eva Mendes know how to shock the world. The pair apparently delivered their second baby girl on April 29th and no one had any idea, until TMZ got their hands on the birth certificate. The name of the new Gosling baby girl is Amada Lee Gosling. Yep, Amada. Which is a little strange considering their first born 20-month-old daughter is named Esmerelda Amada. So what does the name Amada mean and why did Ryan Gosling and Eva Mendes give both daughters the same name? It's about a connection with her roots.
Apparently Mendes had a grandmother named Amada whom she never actually met, but has a strong connection with in her heart. She talked to People En Espanol about her grandmother Amada, who inspired her to ask the director of her 2007 movie We Own The Night, if he would change the name of her character to "Amada."
"I have a feeling that I'm so like her, I feel like we're connected," she told People En Espanol, according to E! News.
Amada is the feminine form of Amatus, a late Roman name that translates to "beloved," which is a super sweet sentiment for the couple's baby girls.
These two, despite both of their high profiles, did a pretty incredible job keeping both the pregnancy and the birth a secret. It was just a couple of weeks ago it was reported that Mendes was even pregnant with a second baby.
And now, surprise! Amada is here and ready to join big sister Esmerelda. Both girls have beautiful Latin names that pay respect to their mother's heritage and they're perfection.
In a world of seven-figure tabloid baby reveals and hospital maternity wards put on lock down, it's pretty refreshing to see a celebrity couple pull off such a private, and low key, birth. Here's Mendes out and about running errands modeling her very effective baby bump cover technique.
Now that the famous couple has pulled off having a baby out of the glare of the spotlight, fans are wondering whether a stealth wedding could be next. But if that's on the horizon, unsurprisingly, Gosling is keeping his lips sealed.
"I"m with the person I'm supposed to be with," the actor said in an interview with Hello! "I'm not looking for anything else beyond Eva — I feel very lucky that we have a beautiful, healthy daughter who is an angel. That's investment enough for me."
Since then, it looks like the hunky Dad has doubled down on that investment with yet another Gosling-Mendes daughter. Congrats to the whole family.