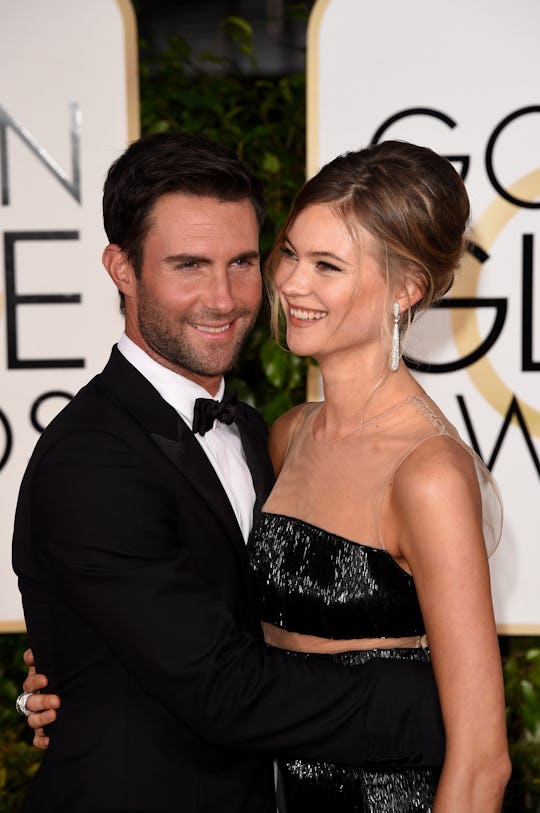 Jason Merritt/Getty Images Entertainment/Getty Images
What Does The Name Dusty Rose Mean? Behati Prinsloo & Adam Levine Got Creative
Welcome to the world, Dusty Rose! Singer Adam Levine and Victoria's Secret model Behati Prinsloo brought home their brand new baby girl last week and shared a sweet photo of their daughter on Instagram, according to AOL. The name chosen by the celebrity couple for their baby seems normal when compared to "Apple," "North," or "Blue," but it's still pretty different. So what's the meaning behind Dusty Rose?
Dusty Rose said as one phrase sounds like a paint swatch, but it's possible Levine and Prinsloo just decided on two separate names that just happened to go well together. Of course, separately Dusty and Rose are both names we've seen before. Traditionally, however, Dusty hasn't been used as a name for girls. Actually, it hasn't been used as a name that much at all as of late.
According to TODAY, the name Dusty was commonly used from the 1950s to the 1990s. In 1976, British singer Dusty Springfield brought the idea of a "girl Dusty" into the public imagination, and the name subsequently peaked for girls. But, Dusty slowly went out of style and is now very rare. Only 15 girls and less than 50 boys were given the name last year.
The couple hasn't explained their choice of name, but their Instagram did show that Levine had a rose tattooed on his chest. He could've had it done before for some special reason, which prompted the couple to name their daughter after a rose. But considering fans have extensively documented Levine's tattoos and a rose hasn't shown up before on any lists, it's more likely that he just recently got it done in honor of his precious baby girl.
Dusty sure is cute! She's joining other celebrity babies with rare and nontraditional names. Back in late 2015, Blake Lively and husband Ryan Reynolds welcomed daughter James. Reynolds told Good Morning Britain that the decision to name her James came after losing his father, who was named James, the year before. Some thought it was odd, but Reynolds defended his position.
In the spectrum of weird celebrity baby names, I feel like we're not really breaking any new ground here. I didn't call her Summersquash Meadowlark or something. I also thought of just going with all the letters being silent in her name, and it would just be pronounced 'haaa'.
In that same vein, Dusty Rose is really nothing crazy. It's a pretty name that evokes a nice, soft visual. Plus, with a face like that, she could be named Summersquash Meadowlark and she'd still be incredibly cute.