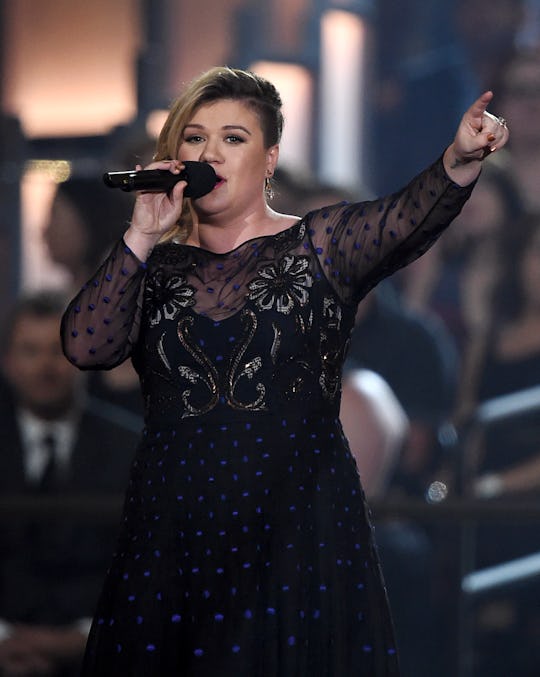 Ethan Miller/Getty Images Entertainment/Getty Images
What Does The Name "Remington" Mean? Kelly Clarkson's Son Is Finally Here
He's finally here! Singer and songwriter Kelly Clarkson announced to fans on Twitter that, on Tuesday, she and husband Brandon Blackstock gave birth to their second child, a baby boy named Remington Alexander, according to E! Online. The couple have one child already, a 2-year-old daughter named River Rose. And, after giving her such a unique and beautiful name, fans were definitely wondering what the family might name their little boy. So, what does the name Remington mean? It seems Clarkson and Blackstock have chosen a popular name associated with good luck.
According to the popular baby naming database Babynamespedia.com, the name Remington has Old English origins and combines elements of the words for "raven" and "town." The name literally means "raven city," according to the site, and remains one of the more popular names for American boys. So, is that good or bad? Well, according to Greek mythology, the raven symbolizes good fortune and light: ancient Greeks associated the bird with the god Apollo, whose chariot helped bring the sun's light at dawn. And while there are plenty of tales that connect ravens to doom and death, the bird's association with insight and intelligence persists to this day (any Game of Thrones fans out there?).
Well, it appears that little Remington graced his mom with better luck in pregnancy this time around. According to E! Online, Clarkson first announced that she was expecting during a concert in Los Angeles last October. The outlet reported that Clarkson's adorable onstage announcement was a surprise to fans and to her husband:
This is not how I wanted to announce [that I'm pregnant]. My makeup artist is backstage hating me. I didn't want you to think I'm on pills or something. I would like to apologize to my husband. This was not planned. I'm just so hormonal. Everything is great, I haven't vomited yet. That's a win y'all.
No doubt, the singer was referencing her struggle with all-day sickness and vomiting during her first pregnancy. In an interview on the Ellen DeGeneres Show in 2013, Clarkson admitted just how awful her bouts with morning sickness had gotten:
I vomit a good dozen times a day. It's, like, bad. I vomited before coming out here. I'm not even kidding. It's so bad. It's so bad. It's, like, so gross. And that's the thing, too: You're not attractive when you're pregnant. Everybody tells you [that] you glow and your hair is pretty and your nails are pretty. That is total crap. My nails are short, my hair still falls out—it's not all lush and beautiful—and I have no glow. Unless it's, like, something left over from a bad throw up. It's horrible.
Yeah, the struggle is real. But things seemed to take a better turn for Clarkson the second time around (and with proactive support from plenty of IV fluids, according to E!). Back in October, the happy family took to Instagram to reveal the gender of their second baby. Clarkson posted a photo of River Rose on a slide with a caption saying "In other news, River's gonna have a little baby brother. #itsaboy We're so excited!"
Congrats to Clarkson and her family on their healthy baby boy.