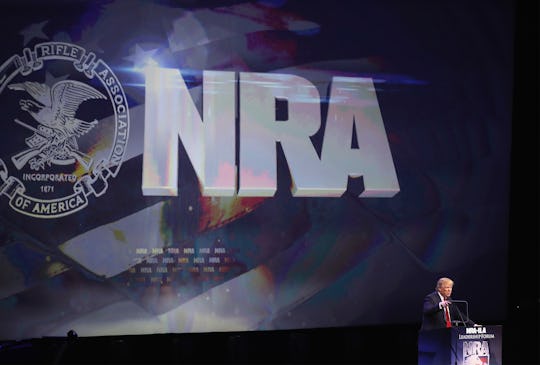 Scott Olson/Getty Images News/Getty Images
What Does The NRA Think Of The Orlando Shooting? Officials Aren't Saying Much
The deadliest mass shooting in American history took the lives of at least 50 people on Sunday morning. Several dozen more were injured when a lone gunman opened fire inside Pulse nightclub, an LGBT establishment in Orlando, Florida, around 2 a.m. ET, resulting in a stand-off with police that ended around 5 a.m. ET. So far, responses on social media have been varied, ranging from open grief to outrage over yet another mass casualty incident. But what does the NRA think of the Orlando shooting? So far, the behemoth gun rights advocacy group is keeping quiet.
(Update: The FBI has updated the death toll to 49 victims. The shooter was also killed.)
NRA social media, traditionally a busy source of outrage, gun rights victories, and anti-gun safety propaganda, was largely devoid of any sort of mention of the topic on Sunday. Romper has reached out to NRA spokespersons for comment and is awaiting a response. CEO and Executive Vice President Wayne LaPierre Jr also remained silent on Sunday.
"It's just shocking," witness Christopher Hansen, who was inside Pulse when the shooting occurred, told CNN reporters. "Just one after another after another. It could have lasted a whole song."
The incident has since been declared the deadliest mass shooting in American history, with the victim count higher than incidents like the tragic Sandy Hook Elementary shooting in December 2012 (26 fatalities, 20 of whom were students), and the Virginia Tech University shooting in April 2007 (32 fatalities).
The strange radio silence on the NRA's part did no go unnoticed on Sunday, with many taking to Twitter to criticize the group for refusing to offer any sympathetic gestures or commentary. "No tweets from the NRA so far today," one user wrote. "I guess they're waiting for the right time to blame the Orlando shooting victims for not packing heat."
"Death toll in Orlando nightclub shooting up to 50," wrote another angry user. "Assault rifle made it possible. The same assault rifle the NRA wants you to have."
Indeed, the rifle reportedly used by the Orlando shooter, U.S. citizen Oman Mateen, was an assault-style AR-15 rifle — the same type of weapon obtained and used by the shooters in the San Bernardino, California shooting; the Aurora, Colorado movie theater shooting; and the Sandy Hook Elementary shooting, according to The Washington Post.
"One common denominator behind these and other high-casualty mass shootings in recent years is the use of assault style rifles, capable of firing many rounds of ammunition in a relatively short period of time, with high accuracy," the outlet noted. "And their use in these types of shooting is becoming more common: There have been eight high-profile public mass shootings since July of last year, according to a database compiled by Mother Jones magazine. Assault-style rifles were used in seven of those."
While the public waits to hear from the NRA — and perhaps, more importantly, to hear from the politicians who allow them to lobby so aggressively on Capitol Hill — the families of the victims, it seems, will have to console themselves with whatever information and empathy they can get. Hopefully that changes soon, for their sake.