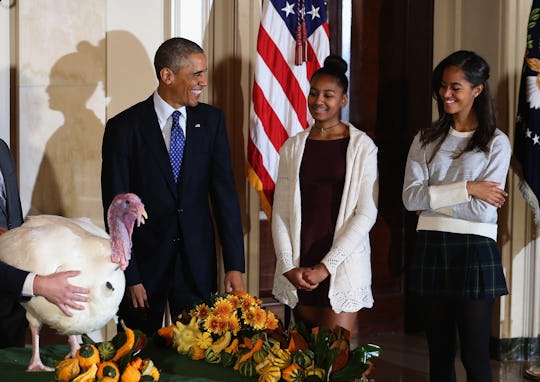 What Does The President Eat For Thanksgiving? The Obamas' Dinner Was Basically Pie Heaven
Thanksgiving has to be the most delicious holiday of the entire year (stuffing, sweet potatoes, cranberry sauce for daaaaayyyys), but have you ever wondered what it's like to have Thanksgiving dinner at the White House? The 2015 White House Thanksgiving Dinner menu has been revealed, and naturally, it sounds amazing — especially if you like pie (but then again, who doesn't like pie?).
Much to the possible dismay of anti-meat activists everywhere, it turns out that the First Family did indeed eat turkey Thursday evening, despite the admittedly strange tradition that is the annual Presidential Turkey Pardon. The First Family won't be eating either of the two special turkeys who were presented to the president at the event held in the Rose Garden on Wednesday afternoon, but they'll be eating some of their brethren. The turkeys — Honest and Abe — made their way to the White House via special presidential-style motorcade, and will head back to live out the rest of their lives on the same industrial farm they came from (although since they've been raised for human consumption, their lifespan won't actually be very long, womp womp). Oh well, at least we got to hear the POTUS make some truly lame dad jokes in front of Sasha and Malia.
So what's on the menu? According to CBS News, a lot of delicious things that are making me hungry to even think about:
Dinner:
Thyme Roasted Turkey
Garlic Jus and Cranberry-Orange Relish
Honey-Baked Ham with Apricot-Mustard Glaze
Prime Rib and Creamed Horseradish
Cornbread Stuffing with Chorizo and Roasted Peppers
Oyster Stuffing
Braised Winter Greens (Collards, Kale, and Turnip Greens)
Macaroni and Cheese
Sweet Potato Gratin
Yukon Gold Mashed Potatoes
Green Bean Casserole
Fresh Greens
Kale Caesar Salad
Dessert:
Banana Cream Pie
Coconut Cream Pie
Pumpkin Pie
Apple Pie
Cherry Pie
Pecan Pie
(Six pies. HEAVEN.)
But a delicious Thanksgiving meal wasn't the only thing on the Obama family agenda this year: On Wednesday, President Obama, First Lady Michelle, and their daughters all helped serve a Thanksgiving meal at Friendship Place, a local organization dedicated to helping the homeless in Washington, D.C.
Considering they had six pies at their dinner, it's the least they could do. (SIX PIES! OK, I'm done.)
Images: Mark Wilson/Getty Images; Giphy(2)