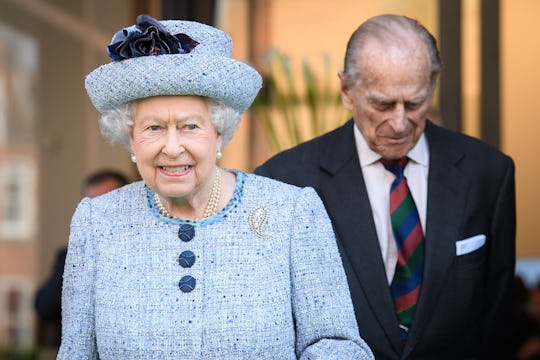 Leon Neal/Getty Images Entertainment/Getty Images
What Queen Thinks Of Prince Philip's Stepping Down
On Thursday morning, Buckingham Palace made an official announcement that Prince Philip, 95 — the husband of Queen Elizabeth the II — would be officially stepping down from his public duties and royal engagements beginning in August. The Queen, however, will continue with hers. What does the Queen think of Prince Philip stepping down? According to the palace, he has her full support.
As the U.K.'s longest reigning monarch, Queen Elizabeth, her husband, and her children (and now grandchildren) have become a fixture of not just U.K. culture, but the rest of the world as well. The Royal Family is particularly beloved by much of the U.S., and as the Queen has aged any news about her health has been headline grabbing throughout the world. So, on Thursday morning when she called an emergency meeting with her staff at Buckingham Palace, the media began to fear the worst. It turned out that the subject of the meeting was her husband, Prince Philip. At 95, the Queen's husband has been by her side for almost 70 years. They are often seen together at a number of events, ranging from appearances at charity and sporting events to the more formal royal engagements like the Trooping the Color or a royal wedding.
The official statement said that Prince Philip has "the full support of the Queen" in his decision, though she will continue to perform her royal duties in his absence. According to the official website for The Royal Family, the Queen, her children, grandchildren, and other close relatives carry out more than 2,000 royal engagements each year. This can be everything from official State duties – where they are representing the monarchy abroad – to attending a wide variety of events held in the U.K. The official website notes that over the Royal Family is a patron or president of over 3,000 organizations.
As the monarchy is also the head of the military in the U.K., the duties of the Queen and her family often involved supporting and honoring the various branches of the armed services and its members. All of these duties, and more, would be impossible for the Queen herself to undertake alone (though she does manage to do a number of them!) so they are usually divided up amongst other members of the Royal Family: her husband Prince Philip, her son Prince Charles, and her grandsons Prince William and Prince Harry.
That being said, the Queen's schedule is still pretty full. On the same day Buckingham Palace announced Prince Philip's retirement, he and Her Majesty the Queen were both expected to attend a service and luncheon at St. James palace, according to the Royal Diary. Last month the pair visited Whipsnade Zoo in Dunstable and were photographed feeding bananas to an elephant named Donna.