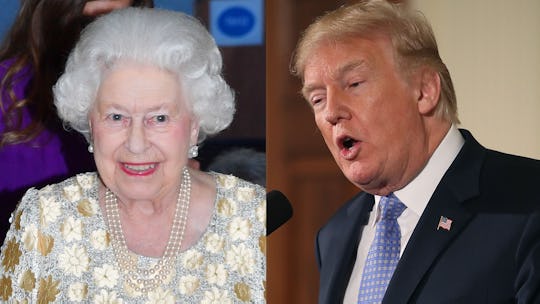 WPA Pool/Getty Images Entertainment/Getty Images, Mark Wilson/Getty Images News/Getty Images
Here's What The Queen Probably Thinks Of President Trump
The royal family does not often express their political opinions — but when it comes to their relationship with President Donald Trump, there are plenty of tidbits that make the family's stance on POTUS pretty clear. And now that a proudly-feminist, anti-Trump American has married into the immediate royal family (Meghan, Duchess of Sussex, duh), people may be wondering: What does Queen Elizabeth II think of Trump?
You may recall that the Queen's grandson Prince Harry, Duke of Sussex met with Melania Trump in 2017 at the Invictus Games in Toronto, Harper's Bazaar reported. The meeting was pretty notable for Harry, considering the inappropriate way Melania's husband treated and talked about Harry's late mother, Diana, Princess of Wales.
After news of Princess Diana and Prince Charles of Wales' separation broke in 1992, Trump reportedly began sending Princess Diana flowers in an attempt to court her, Town and Country reported. Former British TV anchor Selina Scott wrote a column in The Sunday Times in August 2015, where she opened up about Princess Diana's feelings about Trump. "Trump clearly saw Diana as the ultimate trophy wife," Scott wrote in the column, according to People. "As the roses and orchids piled up at her apartment she became increasingly concerned about what she should do. It had begun to feel as if Trump was stalking her." She added that Diana privately told her that Trump gave her "the creeps."
After Diana died, Howard Stern asked Trump about Princess Diana on his radio show. "You could've nailed her, right?" Stern asked Trump, Town and Country reported. Trump reportedly responded, "I think I could've."
And then, in his 1997 book The Art of the Comeback, Trump wrote, according to People:
I only have one regret in the women department – that I never had the opportunity to court Lady Diana Spencer. I met her on a number of occasions. I couldn't help but notice how she moved people. She lit up the room with her charm, her presence. She was a genuine princess – a dream lady.
Additionally, Trump provided an A+ example of victim-blaming when paparazzi published topless photos of Catherine, Duchess of Cambridge from a tropical vacation. Kate and Prince William, Duke of Cambridge, were eventually awarded €100,000 in damages, and Trump responded by saying she should not have exposed herself if she didn't want the photos published. Ugh.
Considering Trump's treatment of the Queen's former daughter-in-law Princess Diana, and his disrespect of Kate, it would make sense if the Queen was not a fan of his.
Additionally, the Queen has met with almost every U.S. president since Dwight Eisenhower, though she has not yet met Trump, W reported. Back in October, news broke that Trump's planned 2018 visit to England had been demoted to a "working visit," the Evening Standard reported. A working visit is a step down from a state visit, which would mean a meeting with a country's head of state — in this case, that's both the Queen and Prime Minister Theresa May. The trip was downgraded due to people threatening to hold protests should Trump visit, the Evening Standard reported.
However, this April, news broke that Trump would probably meet the Queen when he visits England on July 13, the BBC reported. Theresa May, who met Trump in January, said she was "looking forward to welcoming President Trump to the United Kingdom for a working visit on July 13," the BBC reported. The Queen did not provide a comment on Trump's upcoming visit.
In fact, in early 2017, nearly two million people signed a petition barring Trump from meeting the Queen on a state visit to England. The petition read:
Donald Trump should be allowed to enter the UK in his capacity as head of the US Government, but he should not be invited to make an official State Visit because it would cause embarrassment to Her Majesty the Queen.
The British Parliament debated the topic, and responded:
During her visit to the United States on 27 January 2017, the Prime Minister, on behalf of Her Majesty the Queen, invited President Trump for a State Visit to the UK later this year. The invitation was accepted.
All that being said, royal experts surmise that the Queen and Prince Philip, Duke of Edinburgh, "will be nothing less than entirely charming and hospitable" should they meet Trump, The Daily Beast reported.
The royal website reported that the Queen must remain politically neutral:
As Head of State The Queen has to remain strictly neutral with respect to political matters, unable to vote or stand for election, however Her Majesty does have important ceremonial and formal roles in relation to the government of the UK.
That being said, the younger royal family members will not be required to be so kind. For example, Meghan has criticized Trump publicly for misogynistic comments on multiple occasions, and Prince William and Kate are undoubtedly unhappy with the president victim-blaming Kate. Additionally, Prince Charles, who is a big environmental advocate, is expected to discuss climate issues with notorious climate-change denier Trump during his visit, The Guardian reported. It looks like the Queen's family will give Trump the cold shoulder enough to make up for her required hospitality.