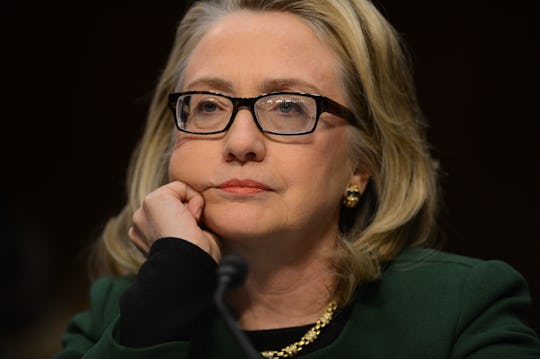 SAUL LOEB/AFP/Getty Images
What Does The Republican Benghazi Report Say? The Committee Has Been Accused Of Bias
After more than two years and $7 million worth of investigations, House Republicans finally released their Benghazi report on Tuesday, which contains plenty of vague, implied blame towards former Secretary of State Hillary Clinton for the 2012 terror attack that killed Ambassador Chris Stevens, Sean Smith, Glen Doherty, and Tyrone Wood. The report contains no evidence of any wrongdoing by Clinton, but claims that she and her aide, Patrick Kennedy, should have anticipated the attack. According to CNN, a portion of the report reads, "It is not clear what additional intelligence would have satisfied either Kennedy or the Secretary in understanding the Benghazi mission compound was at risk – short of an attack."
Democrats have accused the Republican-led Benghazi committee of wasting taxpayer money in an effort to damage Clinton's reputation ahead of the presidential election. Maryland Rep. Elijah Cummings said that South Carolina Rep. Trey Gowdy, the chairman of the committee, refused to work with Democrats, and that he "mocked our idea and decided to go it alone right before the presidential conventions." White House spokesman Eric Schultz referred to the ordeal as a "Republican conspiracy theory in search of a conspiracy," and Clinton campaign spokesman Brian Fallon called it a "partisan sham."
The 800-page report was not only critical of Clinton, according to The New York Times, but the State Department as a whole, as well as the Defense Department, the Central Intelligence Agency, and the Obama Administration, which it accused of withholding evidence. Ohio Rep. Jim Jordan and Kansas Rep. Mike Pompeo released an addendum to the report with more blatant accusations: "With the presidential election just 56 days away, rather than tell the American people the truth and increase the risk of losing an election, the administration told one story privately and a different story publicly," they wrote.
State Department spokesman Mark Toner said that the State Department "has participated at least in 15 hearings, 64 briefings, 72 interviews, and has provided 100,000 pages of documents" regarding the incident, and yet no evidence of malfeasance was found. In a response to the report, the Clinton campaign released a statement charging that "This report just confirms what Majority Leader Kevin McCarthy and even one of Trey Gowdy's own former staffers admitted months ago: this Committee's chief goal is to politicize the deaths of four brave Americans in order to try to attack the Obama administration and hurt Hillary Clinton's campaign."