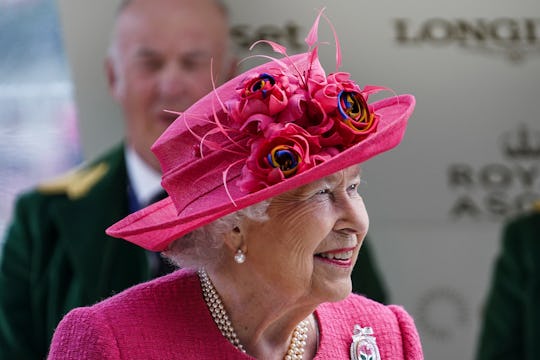 Alan Crowhurst/Getty Images Entertainment/Getty Images
The Royal Family Has Many Sweet Nicknames For The Queen
It's no secret the Queen of the United Kingdom has a big family. In fact, the Queen has eight grandchildren, seven great-grandchildren, and a long list of other relatives. And given how many royals there are to account for, it's reasonable to wonder what the royal family calls the Queen. Each branch of the family tree must call her something different, right? As one might expect, the Queen has *a lot* of different nicknames.
Although it might be difficult to imagine the Queen having a nickname given her important role, her close relatives all have special monikers for her. And as for the people who marry into the royal family, they get the opportunity to call her by a nickname after a certain time has passed. Until then, the Queen is known as "Her Majesty," according to Town & Country magazine.
Of course, it's reasonable to assume the Queen appreciates her many nicknames, especially since her life revolves around formalities. While there are a lot of cute monikers to keep track of (emphasis on a lot), it's likely the Queen doesn't find it bothersome. Having many nicknames is sign that you're deeply loved, after all. And on that note, here is what the royal family calls the Queen.
Prince George & Princess Charlotte
In a documentary to commemorate the Queen's 90th birthday, Catherine, Duchess of Cambridge, divulged an adorable detail about Prince George's relationship with his grandmother.
" ... George is only 2-and-a-half and he calls her 'Gan Gan,'" Kate said about Prince George's nickname for the Queen in Our Queen at 90, according to Refinery29. "She always leaves a little gift or something in their room when we go and stay, and that just shows her love for her family."
Although it's not exactly clear what Princess Charlotte calls the Queen, my guess is sticks with Gan Gan.
Prince William, Duke of Cambridge & Prince Harry, Duke of Sussex
During the opening ceremony of the London 2012 Olympic Games, the Queen starred in a funny video alongside James Bond star Daniel Craig. And when the bit aired, Harry and William reportedly let their nickname for the Queen slip. As soon as the Queen appeared in the hysterical spoof, the brothers supposedly yelled at the same time, according to The Telegraph: "Go granny!" Adorable.
But wait, that's not the only moniker William and Harry have used. Apparently, William used to call the Queen "Gary."
"After a fall at Buckingham Palace, the Prince cried out for 'Gary, Gary,'" Daily Mail columnist Richard Kay recalled. "When a guest asked who Gary was, the Queen stepped in and explained: 'I'm Gary. He hasn't learned to say Granny yet.'"
I just can't — I would have loved to have been there when the Queen supposedly said, "I'm Gary." Gary is the *perfect* term of endearment for the Queen in my book.
Meghan Markle, Duchess of Sussex
Similarly to other members in the royal family, Meghan also has an adorable name for the Queen. When Meghan develops a familiar relationship with the Queen, she'll call her "mama," according to The Sun.
"Mama" is likely what Kate calls the Queen, and it's reportedly what Diana, Princess of Wales used.
Prince Charles, Prince Of Wales
Considering Prince Charles is the Queen's son, it's not surprising his nickname is the most adorable one.
In a sweet twist, Prince Charles calls the Queen "mummy," a moniker he let loose at her 92nd birthday bash in April 2018. Apparently, the Queen rolled her eyes at the "mummy" remark. Ha.
Prince Philip, Duke of Edinburgh
Prince Philip, the Queen's husband, also has a heartwarming nickname up his sleeve. Prince Philip reportedly refers to the Queen as a "cabbage," according to Town & Country magazine. Although it's not clear where this moniker originated from, there's no denying it's incredibly sweet.