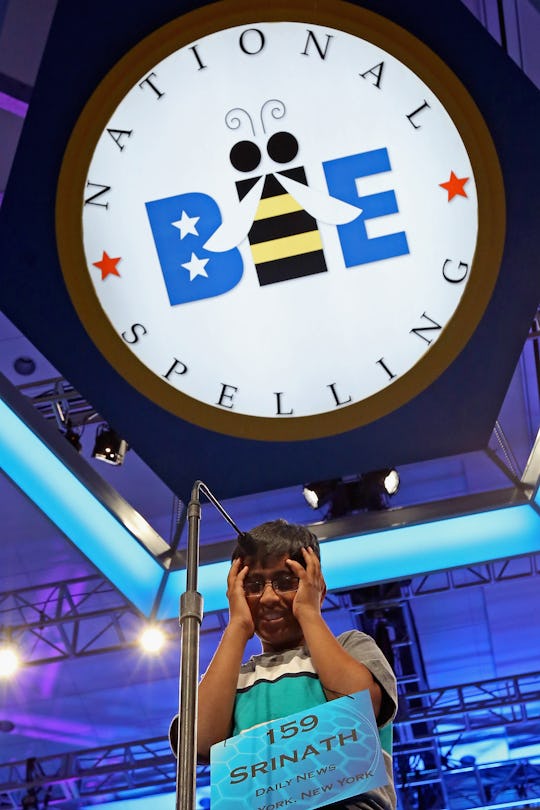 Chip Somodevilla/Getty Images News/Getty Images
What Does The Scripps Spelling Bee Winner Get? A Lot Of Cash, That's What
Let me geek out for a moment: I am a sucker for a good spelling bee. In fact, not taking spelling bees more seriously like the true geek I am is one childhood regret. Especially because the annual Scripps Spelling Bee winner gets a lot of cash, and who couldn't have used more of that come college time?
The Spelling Bee folks aren't messing around either — each year the champion of the grueling vocabulary tournament gets a $40,000 cash prize and an engraved trophy from Scripps, plus a $2,5000 savings bond from Merriam Webster. They also get a full reference library from Merriam Webster. In addition to that, the winner receives $400 of reference works including a 1768 Encyclopædia Britannica Replica Set Deluxe Edition and a three-year membership to Britannica Online Premium.
Oh, but that's not all. The Scripps Spelling Bee winner also gets a ticket to New York City to appear on Live! with Kelly. You know, to brag on national television and all. The runners up get cash prizes, too, and medals. Those cash prizes start at $30,000 for the second place winner and decrease from there, according to when each misspells their final words:
Misspell in Rounds 4 through 6: $500 gift card
Misspell in Round 7 to 7th place: $2,000
6th Place: $2,500
5th Place: $5,000
4th Place: $10,000
3rd Place: $20,000
The winners' schools get engraved plaques, too, to show off that they're home to a smarty pants. It's all pretty intense.
This year, before all of that stress and the early elimination rounds start on Tuesday, the kids are just hanging around D.C., doing what kids do best. On Monday, the spellers had the chance to visit the National Zoo and had a BBQ. It's actually pretty adorable.
Until it gets cutthroat, of course. All of the contestants are between the ages of 6-15 years old and, according to the official rules, had to have been declared a champion in a spelling bee this year. That means these kids are fresh and ready to launch assaults on their rival spellers, no holds barred.
And they'd better be ready too, because these words are hard. Like, six-syllable words of Inuit origin. How the heck they do it is beyond me. They do get to ask the pronouncer a bunch of questions if they need to, which is sort of my favorite part (because then you really start to see them sweat and I'm sorry if that's evil). They can ask the grown ups to say the word again, define it, use it in a sentence, provide the part of speech, provide the language of origin,and provide an alternate pronunciation if possible.
The kids can also ask root word questions, which I understand can help you figure out whether there's a hard or soft "-ch" sound or something, but it always feels like they're stalling.
The finals are going to be aired on May 25 and 26 on ESPN. I'll be taking bets.