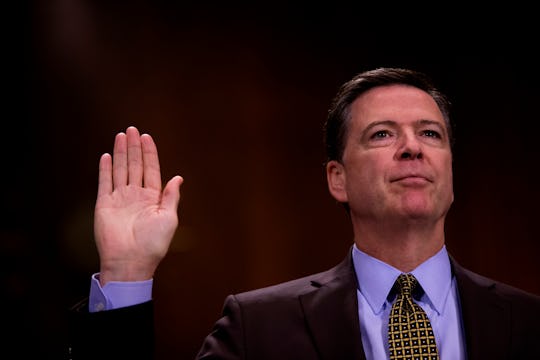 Eric Thayer/Getty Images News/Getty Images
The 2nd Paragraph Of Trump's Comey Letter Is A Little Off
Though there's nothing ambiguous about the phrase, "You are hereby terminated and removed from office, effective immediately," some other aspects of President Donald Trump's termination letter to former FBI director James Comey are a little less direct. So what does the second paragraph of Trump's letter to Comey mean? Some backstory is required to get where Trump is coming from.
"While I greatly appreciate you informing me, on three separate occasions, that I am not under investigation, I nevertheless concur with the judgment of the Department of Justice that you are not able to effectively lead the Bureau," the paragraph reads. Considering Trump's past criticism of Comey, it's no doubt that this sentence is tinged with sarcasm. The "greatly appreciate" is more than just an empty thank you; It's also a way for Trump to insert more of his personal agenda, emphasizing that he's "not under investigation." (Romper has reached out to both the White House and FBI for comment on the dismissal and is awaiting a response.)
But this isn't really true. Vox's German Lopez highlights that, within this second paragraph, "Trump is trying to not so subtly tell people the Russia investigation has nothing to do with the termination — because, hey, the FBI told Trump that it's really not investigating him personally." Personally or not, Trump's campaign is under investigation for possible collusion with Russia (though that has not yet been proven). Despite what phrases the president chooses to emphasize, the FBI, previously under Comey's direction, was looking into the Trump campaign.
"It is essential that we find new leadership for the FBI that restores public trust and confidence in its vital law enforcement mission," Trump's letter to Comey concludes, looking forward to replacing the former director. The perception of compromised "trust and confidence" presumably stems from the way that Comey handled former presidential nominee Hillary Clinton's email server allegations, of which the FBI never sought charges. Trump has made it clear that he doesn't agree with this course; In a tweet on May 2, Trump claimed that Comey "gave [Clinton] a free pass for many bad deeds" and now, a mere week later, Comey has been terminated.
Now, considering Comey's recent firing, the fate of the Russia investigation is less clear than ever. Many Democrats are urging Trump to allow a special prosecutor to review the potential ties, insisting that this will encourage objectivity and fairness. On Tuesday, Trump insisted that "today will mark a new beginning for our crown jewel of law enforcement;" Many would argue that a non-partisan prosecutor is the best beginning possible.