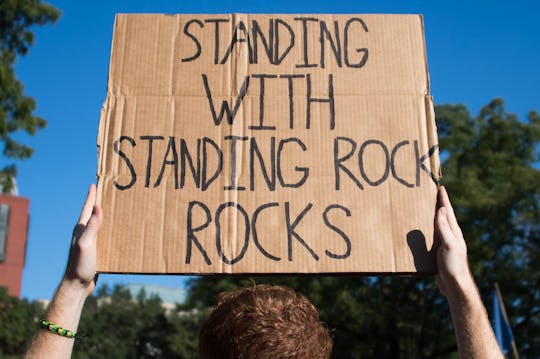 JIM WATSON/AFP/Getty Images
What Does The Standing Rock Facebook Check-In Do? It's A Way To Help & Protect Protesters
Native Americans and activists demonstrating against the construction of a massive oil pipeline near two major reservations in North and South Dakota consider themselves to be "protectors," not protesters, according to a CNN report. The tribes have set up makeshift camps in the pathway of development of the nearly $4 billion Dakota Access Pipeline in an attempt to safeguard their drinking water as well as their burial and prayer sites — but local authorities are determined to remove them. As rumors circulate online that one North Dakota sheriff's department is using Facebook's "check-in" feature to locate those resisting near the Standing Rock Sioux Reservation, some supporters who aren't on site may be able to use the Standing Rock Facebook check-in to "overwhelm and confuse" authorities.
Update: Snopes.com's Kim LaCapria talked with a representative from the Morton County Sheriff's Office, who said that police were not using Facebook check-ins as a means to target protesters. In fact, if the department were using geolocation tools to identify protesters, the voluntary check-ins would not be pertinent.
If completed, the Dakota Access Pipeline would ferry domestic crude oil across four states, and proponents of the project (which got the official green light back in July) believe it would prove an economic boon for the country and decrease dependence on foreign oil. But the Native American tribes whose reservations it would snake near have mobilized to protect their land from negative environmental and economic impacts they feel it will bring. And although they stress peace and nonviolence, clashes with police and soldiers erupted on Thursday, with the Morton County Sheriff's Department alleging that fires had been set along the highway and that a woman fired shots at them.
Ultimately, 141 people were arrested at or near the "winter camp" where some people have also been handcuffing themselves to construction equipment, according to NBC News.
But even after construction resumed Friday, many of the "protectors" aren't planning on going anywhere. In fact, some invested in the cause are encouraging supporters from all over the country and the world to take part in a campaign that could potentially thwart the protester mitigation efforts of the same sheriff's department that arrested so many of them just days ago. Facebook users have been asking others to check in at the protest site, even if they're not there. The goal, ostensibly, is to make it harder for authorities to determine where people are.
Here's an example, posted by Facebook user Emily Emerson Paige:
The Morton County Sherriff's [sic] Department has been using Facebook check-ins to find out who is at Standing Rock in order to target them in attempts to disrupt the prayer camps. SO Water Protecters are calling on EVERYONE to check-in at Standing Rock, ND to overwhelm and confuse them. This is concrete action that can protect people putting their bodies and well-beings on the line that we can do without leaving our homes. Will you join me in Standing Rock?
It's a missive that's gone up on around Facebook, and it certainly is possible to check in to Standing Rock in North Dakota no matter where you are using your mobile device. Romper reached out to the Morton County Sheriff's Department to ask whether it really is using Facebook to target protesters, but has not yet heard back.
So, it's unclear whether checking in at Standing Rock remotely is an effective way to support those who are there defending their land, their traditions and cultural artifacts, and their wellbeing, but there are many more concrete ways to do so. Even though the White House petition decrying the project has all the signatures it needs, TheFreeThoughtProject.com has a list of many ways to help: donating money and supplies, calling up key players like North Dakota Gov. Jack Dalrymple, the Army Corps of Engineers (which issued the construction permit), and the head honchos at Energy Transfer Partners, the company responsible for the building of the pipeline itself.
Supporting the "'protectors" at Standing Rock does not have to involve trying to subvert official operations. But as those at the site begin to feel more and more threatened by the authorities, it could be a tempting option for them.