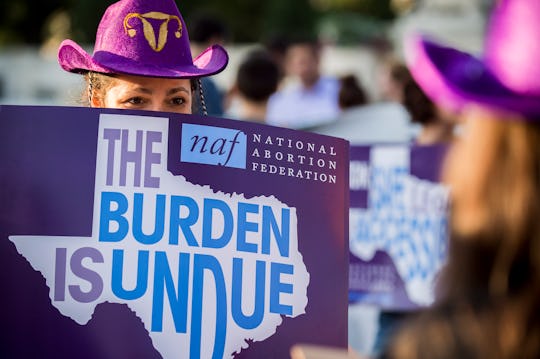 Pete Marovich/Getty Images News/Getty Images
What Does The Supreme Court Abortion Case Mean? It's An Important Move For Women's Health
The Supreme Court of the United States announced Monday that it has struck down restrictive abortion laws in Texas, known as H.B. 2, deciding in a 5-3 vote that "the regulations are medically unnecessary and unconstitutionally limit a woman's right to an abortion," according to the Associated Press. What does the Supreme Court abortion case mean? The ruling will protect abortion clinics the state had been trying harder to regulate, ensuring that clinics that would have had to close as a result of H.B. 2 can remain open. And it also sets an important precedent for states across the country currently working to implement similar laws.
The controversial law, first enacted in 2013, has been fiercely debated, with supporters arguing increased restrictions on abortion clinics make the procedure safer for women, while critics have argued that it would result in the closure of the majority of abortion clinics in Texas, making it almost impossible for many women to access safe, medical abortions, according to CNN. H.B. 2 called for abortion providers to have admitting privileges at nearby hospitals, and for the clinics they work in to adhere to strict regulations governing ambulatory surgical centers.
Ruling on the case, Supreme Court Justice Stephen Breyer wrote,
There was no significant health-related problem that the new law helped to cure. We agree with the District Court that the surgical-center requirement, like the admitting-privileges requirement, provides few, if any, health benefits for women, poses a substantial obstacle to women seeking abortions, and constitutes an 'undue burden' on their constitutional right to do so.
The question of "undue burden" has been an important one with H.B. 2, as the Supreme Court's ruling was based upon the 1992 precedent, which established that a law is considered unconstitutional if it creates an "undue burden" on women seeking abortions, according to USA Today. But since the law was introduced in 2013, the American Congress of Obstetricians and Gynecologists has argued that stricter regulations on abortions like the ones proposed in H.B. 2 aren't even medically necessary, and that they could actually be dangerous, since women wouldn't be able to access the safe medical care they would require.
ACOG also noted that abortions are "one of the safest medical procedures...with less than 0.5 percent of abortions involving major complications," and, as a result, expecting abortion providers to have admitting privileges was completely unnecessary and unrealistic. The majority of abortion providers don't meet the minimum admitting numbers to qualify, for example, and doctors who need to transfer patients for emergency care can do so without admitting privileges anyway.
Now that H.B. 2 has been struck down, abortion providers will no longer have to risk having to shutter their clinics due to the law's tight restrictions. And that's very good news, according to Supreme Court Justice Ruth Bader Ginsburg, who said, according to CNN,
When a State severely limits access to safe and legal procedures, women in desperate circumstances may resort to unlicensed rogue practitioners, faute de mieux, at great risk to their health and safety.
Presumptive Democratic presidential nominee Hillary Clinton has already tweeted in favor of the ruling, calling it "a victory for women in Texas and across America."
The lead plaintiff in the SCOTUS case, Amy Hagstrom Miller, founder and CEO of Whole Women's Health, agreed, and said in a statement following the ruling,
I am beyond elated. Every day Whole Woman's Health treats our patients with compassion, respect and dignity—and with this historic decision, today the Supreme Court did the same. We're thrilled that justice was served and our clinics [can] stay open.
Moving forward, the SCOTUS ruling regarding H.B. 2 could have huge implications for other states who have similar laws in place. According Vox,
This ruling should be able to prevent other states from passing admitting privilege or ambulatory surgical center laws...[and] should also invalidate similar laws that other states have already passed.
In the past five years, hundreds of laws have been passed across the country — 396 in 46 states, according to the Guttmacher Institute — to restrict women's access to abortion services. Although it's clear that women still face an uphill battle when it comes to protecting their reproductive rights, there's no doubt that Monday's SCOTUS ruling is a huge step forward, and that it will have important implications for abortion providers, clinics, and women throughout the country moving ahead.